This recipe for Honey Garlic Butter Salmon is a quick and healthy weeknight meal. I had some frozen salmon portions in the freezer that I had bought earlier in an attempt to try and eat healthier and tonight was the night to use them. I also had some frozen green beans I had to use up and put them on the sheet pan for an easy one pan meal. Well, besides the saucepan I used to melt the butter and honey sauce. I had this recipe saved  on my Pinterest board for a while. It has been adapted from Cafe Delites Honey Garlic Butter Salmon in Foil for Scott and I. Cooking for two can sometimes be more difficult than a large crowd.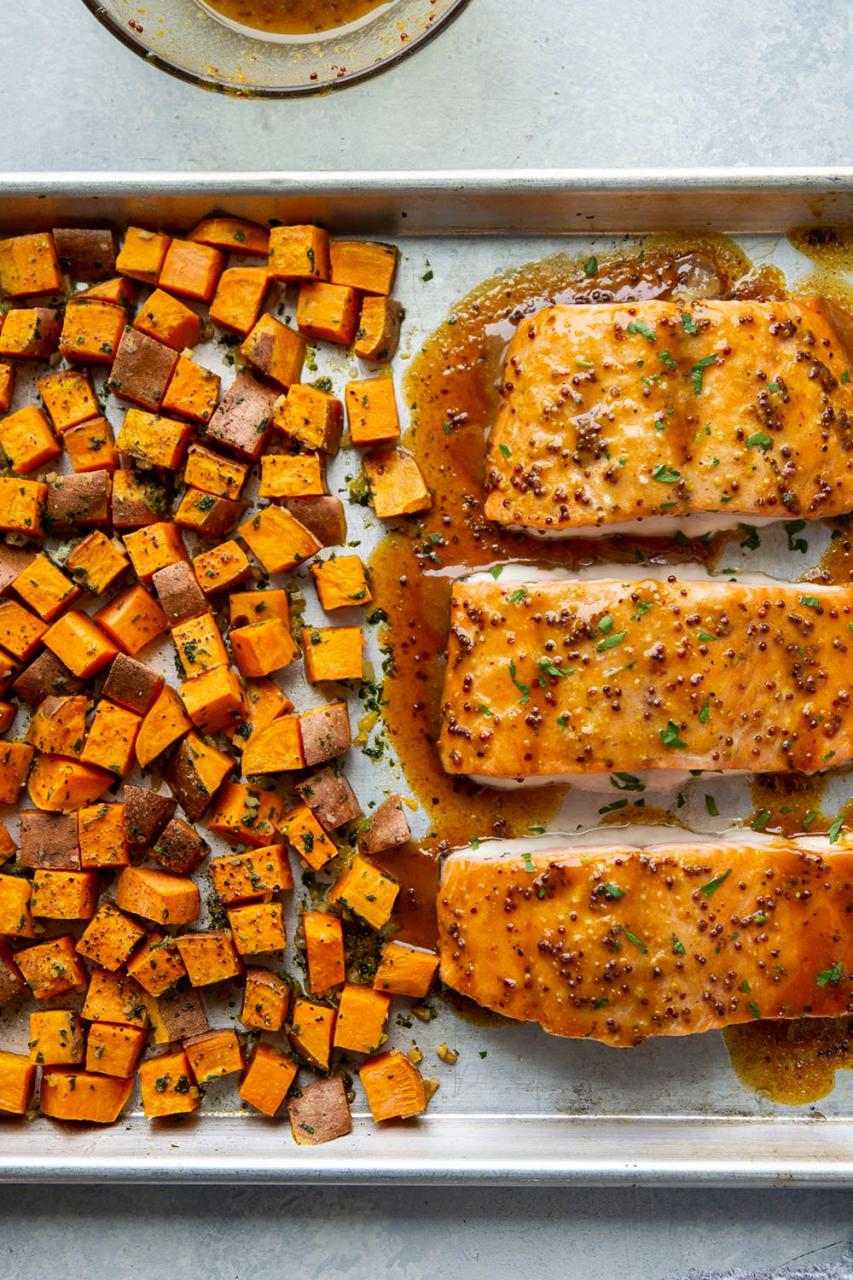 When I get home from work at 5:30ish I am usually hungry and don't feel like waiting for something that is going to take 30 minutes to prep and another 45 minutes to cook. If it's not easy I will have cheese and crackers or frozen pizza, or just go out and eat. This recipe was quick to prep and quick to cook.
I only had salmon portions but you could easily use a side of salmon for this recipe. I also used individual foil sheets for each portion, but one large sheet of foil would be fine. The green beans were a total afterthought because I knew the salmon wouldn't be enough. Mashed potatoes were awful tempting but would defeat the whole point of the healthy meal. Mashed potatoes are so very hard to resist…
Honey Garlic Butter Salmon Recipe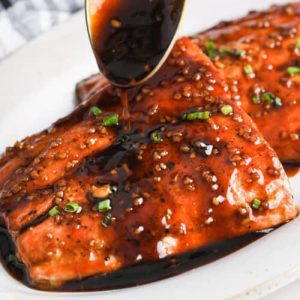 HONEY GARLIC BUTTER SALMON
Just tried our Honey Garlic Butter Salmon recipe? We'd love to hear about your culinary adventure! Share your experience and photos with us, and don't forget to tag us on social media. Loved this recipe? Subscribe to our blog for more delicious recipes delivered straight to your inbox!
Equipment
1 oven

1 baking sheet

1  small saucepan
Ingredients
3

tbsp

butter

3

tbsp

honey

2

cloves

garlic

1-2

tbsp

lemon juice and lemon slices for garnish

1

lb

salmon

salt and pepper
Instructions
Line a baking sheet with foil. I used foil sheets

In a small saucepan melt butter over low heat. Add the honey, garlic and lemon juice, whisk until melted and well combined.

Place salmon on to foil sheets folded up to so that the sauce doesn't run out.

Pour honey butter sauce over the salmon and sprinkle with salt and pepper.

Place lemon slices on top of the salmon.

Fold foil over the salmon to seal in the sauce.

Bake until cooked through 10 - 15 minutes depending on the size of your salmon and how well done you like it.
Notes
Always choose fresh and high-quality salmon for this recipe. The quality of the fish will significantly affect the final taste of your dish.
Adjust the amount of garlic according to your preference. If you're a fan of a strong garlicky flavor, feel free to add more!
Don't rush the cooking process. Let the salmon absorb all the flavors of the honey, garlic, and butter for a truly delightful result.
Cooking Tips for Honey Garlic Butter Salmon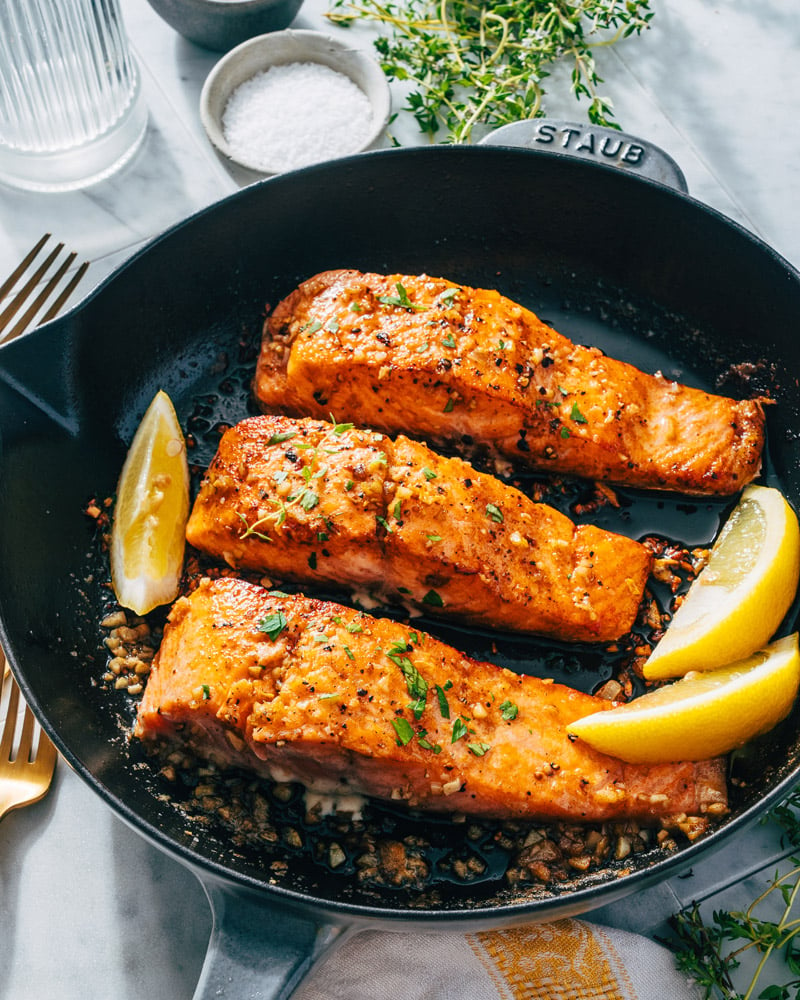 As an experienced chef, I've learned a thing or two about cooking salmon. Here are some tips and tricks to ensure your Honey Garlic Butter Salmon turns out perfectly every time.
Quality Matters: Always opt for fresh, high-quality salmon. It makes a world of difference in the taste and texture of the final dish.
Marinate Well: Allow the salmon to marinate in the honey garlic butter mixture for at least 30 minutes. This will help the flavors penetrate deep into the fish.
Avoid Overcooking: Salmon can easily become dry if overcooked. Keep a close eye on it and remove it from heat as soon as it flakes easily with a fork.
Serving Suggestions for Honey Garlic Butter Salmon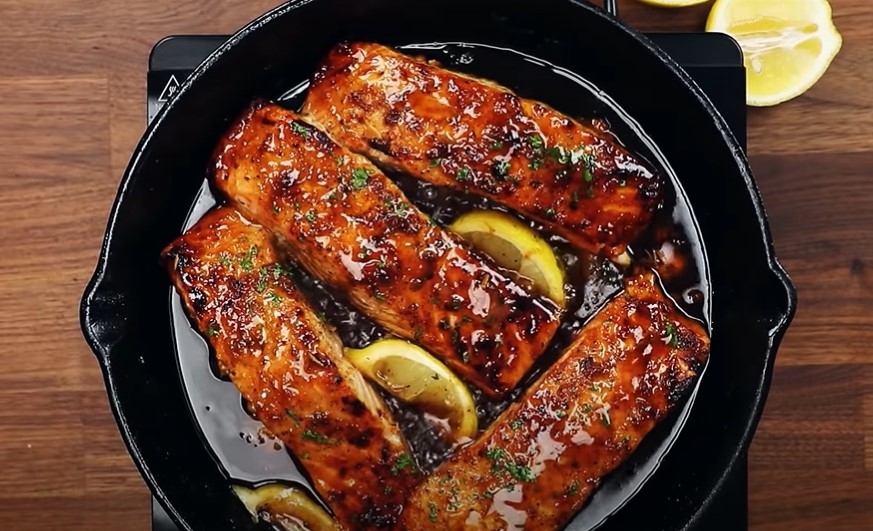 Now that you've cooked up this delicious Honey Garlic Butter Salmon, let's talk about how to serve it to enhance its flavors even further.
Pair with Greens: The rich flavors of this salmon dish pair well with a simple green salad or steamed vegetables. The freshness of the greens balances out the richness of the salmon.
Complement with Wine: A glass of crisp white wine, like Sauvignon Blanc or Pinot Grigio, complements the sweet and savory flavors of the salmon.
Variety in Serving: You can serve this salmon as a main course, flake it over a salad, or use it as a filling for wraps and sandwiches. The possibilities are endless!
Frequently Asked Questions about Honey Garlic Butter Salmon
How long should I marinate the salmon?
I recommend marinating the salmon for at least 30 minutes. However, if you have more time, letting it marinate for up to 2 hours will result in even more flavor.
Can I use frozen salmon?
Yes, you can use frozen salmon. Just make sure to thaw it completely before cooking to ensure even cooking.
What other fish can I use for this recipe?
This honey garlic butter marinade works well with many types of fish. Try it with trout, cod, or halibut for a change.
How can I store leftovers?
Leftovers can be stored in an airtight container in the refrigerator for up to 3 days. Reheat gently in the oven or on the stovetop to avoid drying out the salmon.
Can I make this recipe ahead of time?
Yes, you can prepare the marinade and the salmon ahead of time. Just keep them separate until you're ready to cook to prevent the fish from becoming too salty.
Dive into the world of flavors with our Honey Garlic Butter Salmon recipe. It's quick, easy, and absolutely delicious. Try it today!