I love making recipes off the back of boxes or bags, that's where I found this recipe for triple chocolate cupcakes. It's always fun to try something new and a bit different. I found this bag of mini semi-sweet chips in my pantry and I have NO idea why I bought them. Luckily they hadn't expired so I figured I better do something with them. I had all the ingredients and decided to make these cupcakes. I figured I could send them back to school with Alexa to feed her friends. I'm not a huge sweets eater, but I know Alexa is!
Things were going along great with the cupcakes, I made 12 regular size cupcakes and 21 mini cupcakes. I think it should have been 24 but I never get the measurements right on, oh well. And, yes, I did use a scoop 🙂 Anyway, I baked them up and came to the part of the recipe where you make the chocolate drizzle. I had saved my 1/4 cup of chips, put in my tsp of butter and microwaved according to the directions. Nope, chocolate seized and was no where near drizzleable (no that's probably not a real word). So, I had some milk chocolate chips and tried again, nope that didn't work either. I lowered the temp on the microwave to see if that helped, nope. Then I tried it over boiling water, nope that didn't work either. By this time I was getting quite frustrated with this process, but I knew these cupcakes need a little something to dress them up. So I was out of the mini chips, I was now out of milk chocolate chips and all I have left is white chocolate chips–so, I gave that a try. Nope, same thing! But I'm about done by this time so I spread it on top of the cupcakes and call it good!   The cupcakes are delicious, but my pride is a bit hurt. I've melted chocolate before. Today just wasn't my day. I hope you try these cupcakes and I hope the drizzle works much better for you than it did for me. But I'm sure it will. I am by no means a great baker, but it is fun to make something sweet. Especially this time of the year.   Some of my girlfriends came over Friday night to bake cookies and we had lots of laughs, cocktails and even got some cookies baked. Those recipes will be coming in the next few weeks before Christmas, so stay tuned.   I hope you all have a fantastic week and enjoy something sweet.   Jenny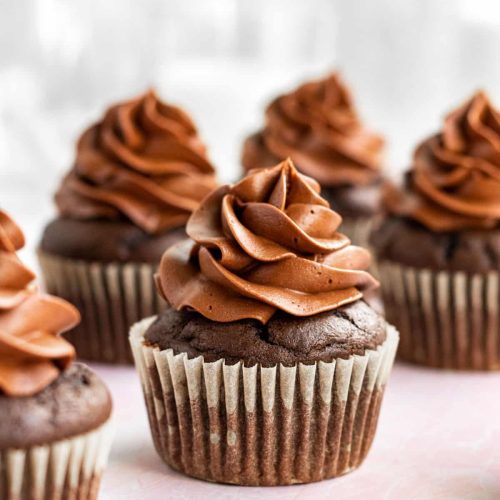 TRIPLE CHOCOLATE CUPCAKES (BACK OF THE BAG RECIPE)
Equipment
1 oven

24 muffin tins

1 bowl
Ingredients
2

c.

Hershey's mini semi-sweet chocolate chips.

1 bag (reserve ¼ c. for drizzle)

¾

c.

butter

1½ sticks

1¼

c.

sugar

2

eggs

1

tsp.

vanilla

1½

c.

all purpose flour

½

c.

cocoa

1

tsp.

baking soda

½

tsp.

salt

1

c.

milk
Instructions
Heat oven to 375 degrees, and line 24 muffin tins with paper wrappers.

Whisk together flour, cocoa, baking soda and salt in a bowl. Whisking gives it the effect of sifting.

In a mixer with the paddle attachment beat together butter and sugar until fluffy. Add eggs and vanilla and mix until well combined.

Alternate adding milk and dry ingredients to the mixer until they are all incorporated and mix well.

Fold in chips

Fill muffin cups ½ full or with at ½ cup scoop.

Bake 20-25 minutes and cool completely.

FOR THE DRIZZLE put reserved chips and 1 tsp. butter in a bowl and microwave on 50% power for 30 seconds. Cook at 50% power in 10 second increments until chips are melted.
Baking Tips for Perfect Triple Chocolate Cupcakes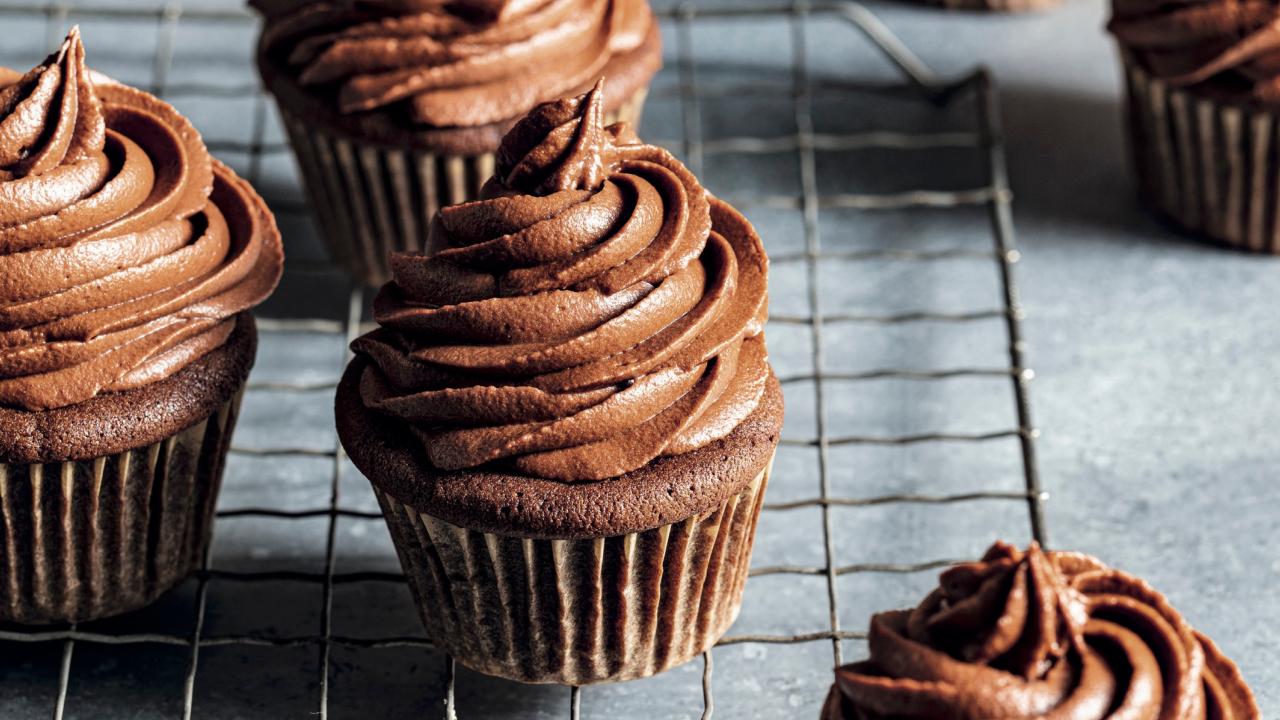 While I won't be sharing the recipe today (I know you've got that part sorted!), I do want to share some tips that can take your Triple Chocolate Cupcakes to the next level.
Quality Matters: When it comes to chocolate, quality is key. Opt for high-quality cocoa powder and chocolate chips for the best results. Trust me, your taste buds will thank you!
Temperature Control: Ensure your ingredients are at room temperature before you start. This helps them combine better, resulting in a smoother batter and ultimately, a better cupcake.
Don't Overmix: Overmixing the batter can lead to dense cupcakes. Mix just until the ingredients are combined for a light, fluffy texture.
FAQs about Triple Chocolate Cupcakes (Back of the Bag Recipe)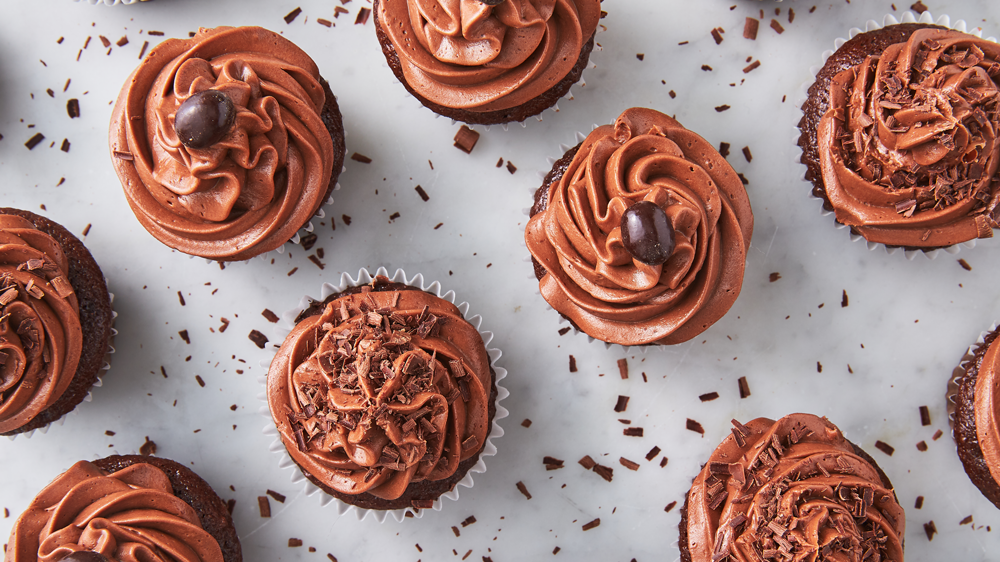 Over the years, I've received several questions about these heavenly cupcakes. So, let's address some of the most common ones.
Q1: Can I make these cupcakes in advance?
Yes, you can! The unfrosted cupcakes can be stored in an airtight container for up to two days. Just remember to frost them right before serving.
Q2: What if I don't have a cupcake tin?
No worries! You can use a muffin tin instead. Just adjust the baking time as muffins tins are usually larger than cupcake tins.
Q3: Can I make this recipe gluten-free?
Absolutely! You can substitute the regular flour with a gluten-free blend. Just make sure it's a 1:1 baking blend that already includes xanthan gum.
Serving Your Triple Chocolate Cupcakes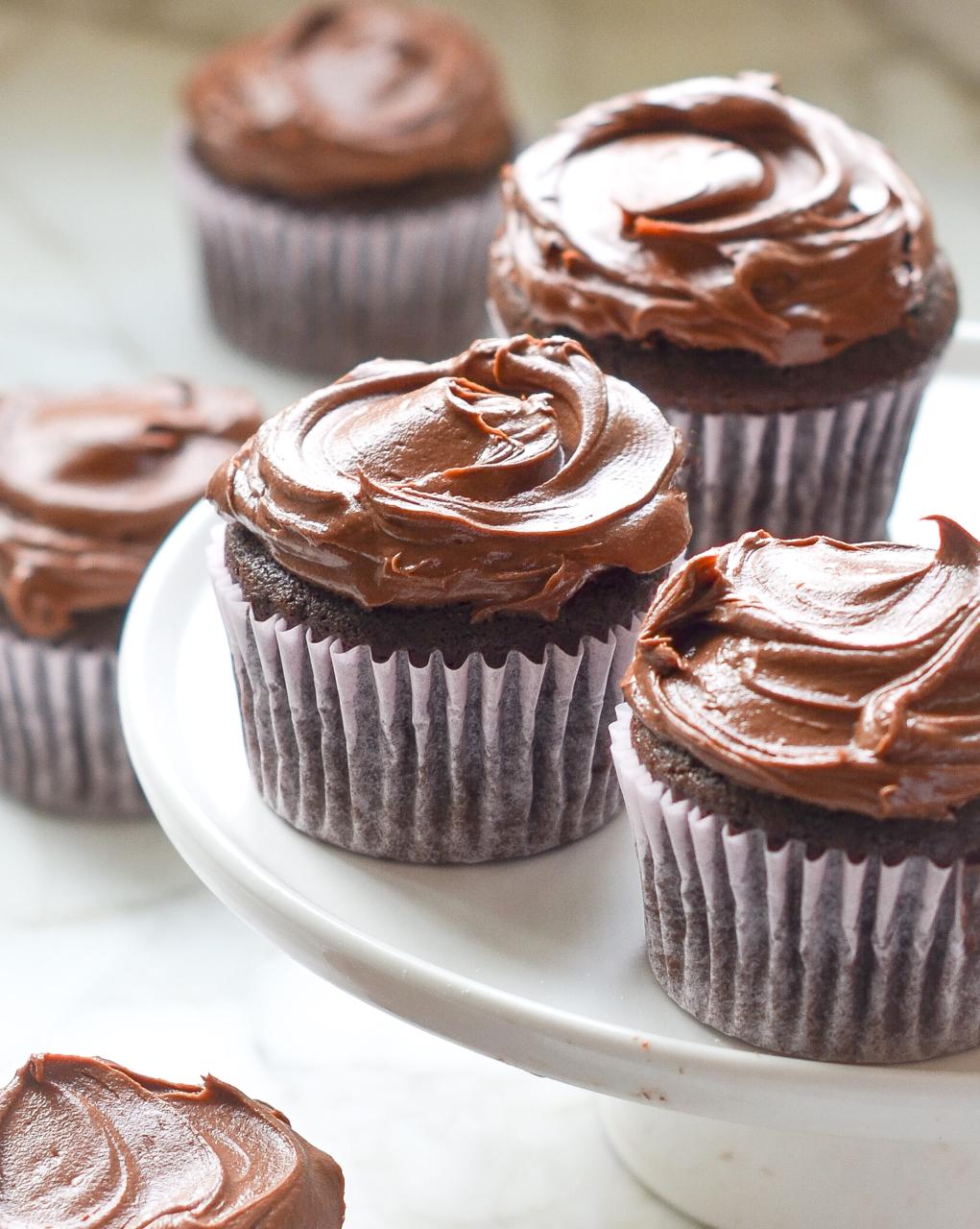 When it comes to serving your Triple Chocolate Cupcakes, presentation is everything. Consider using colorful cupcake liners and decorating the frosting with chocolate shavings or sprinkles for a festive touch.
Pair these cupcakes with a glass of cold milk or a cup of hot coffee for the ultimate indulgence. And if you're serving them at a party, remember to make extras – they'll disappear before you know it!
And there you have it – a glimpse into my love for Triple Chocolate Cupcakes (Back of the Bag Recipe). Whether you're a seasoned baker or just starting out, I hope these tips, answers, and serving suggestions inspire you to create a batch of cupcakes that will delight everyone who tries them.
So, why wait? Bring some sweetness into your life with Triple Chocolate Cupcakes. Happy baking!