Kind of a cold dreary day and I'm in kind of a funk. I have a container of strawberries in the fridge. Strawberries can cheer anyone up for sure! What better way to get out of my funk than cooking to keep my mind off of all the other stuff going on in my life like work, my daughter going to prom next weekend, then graduating June 2nd, her graduation party, then moving to college and leaving me here with just the boys, and never ever coming home again to see me…. well ok, so that might be a bit dramatic. But, I may or may not be dealing with this whole growing up thing very well, just for the record I am dealing just fine! Thank you very much. ON to the strawberry jello yogurt bites!
Jello was on sale last week at the grocery store so I bought 3, I only needed one for the mandarin pineapple jello salad but sometimes it's good to have jello around. The strawberry Jello box had this recipe on the side and sounded good and fairly low calorie (I used light yogurt) so why not give it a try. Strawberry and Jello are two of my favorite summer treats. Strawberry pretzel salad, my ALL time favorite! But that's another post. In addition to these tasty bites I made Strawberry Banana Bread with Strawberry butter. OMG it was amazing! Strawberries really do say spring/summer to me. So, even if it doesn't currently look or feel like summer outside, inside my house we are already there.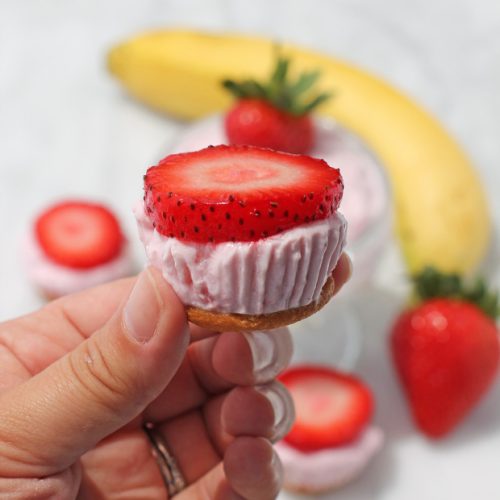 Strawberry Jello Yogurt Bites
Equipment
1 microwave safe bowl

16 mini muffin cups
Ingredients
1

pk 3 oz strawberry Jello

3 6

oz

containers strawberry jello

4

strawberries sliced for garnish
Instructions
Mix yogurt and jello in a microwave safe bowl

Microwave on high 2 min, stir

Microwave another 2-3 min until jello is dissolved

Spoon into 16 mini muffin cups

Refrigerate 1 hr

Garnish with sliced strawberries
Mastering the Art of Strawberry Jello Yogurt Bites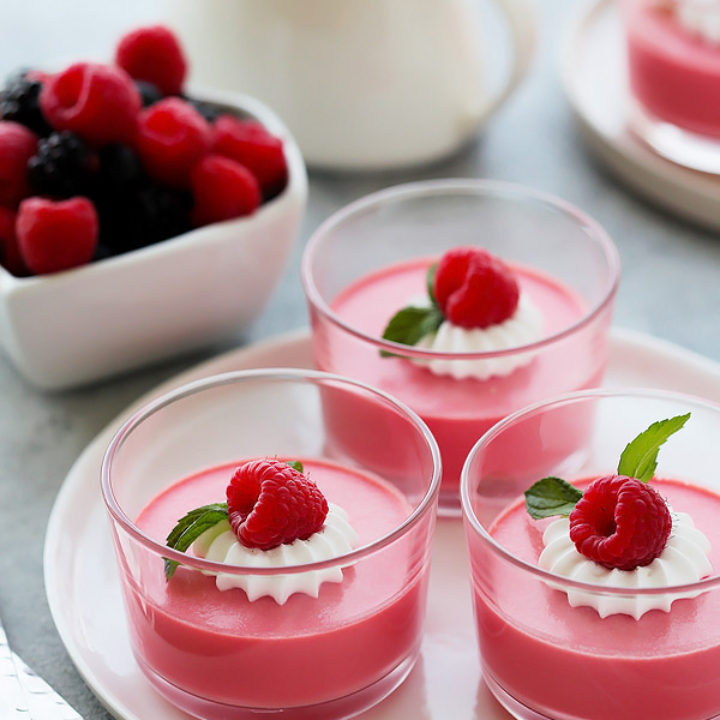 Creating the perfect strawberry jello yogurt bites is a delicate balance of art and science. While we won't be discussing the exact recipe today, I'll share some invaluable cooking tips that can take your dessert game to the next level.
Firstly, the quality of your yogurt is crucial. Choose a creamy, high-quality yogurt for the best results. Remember, it forms the base of your bites!
Secondly, don't underestimate the power of good-quality jello. It not only adds flavor but also gives your bites their signature texture.
Lastly, achieving the perfect consistency is key. You want your bites to be firm enough to hold their shape, but not so hard that they lose their creaminess. It's this delicate balance that gives strawberry jello yogurt bites their signature texture.
Frequently Asked Questions: Unraveling the Mysteries of Strawberry Jello Yogurt Bites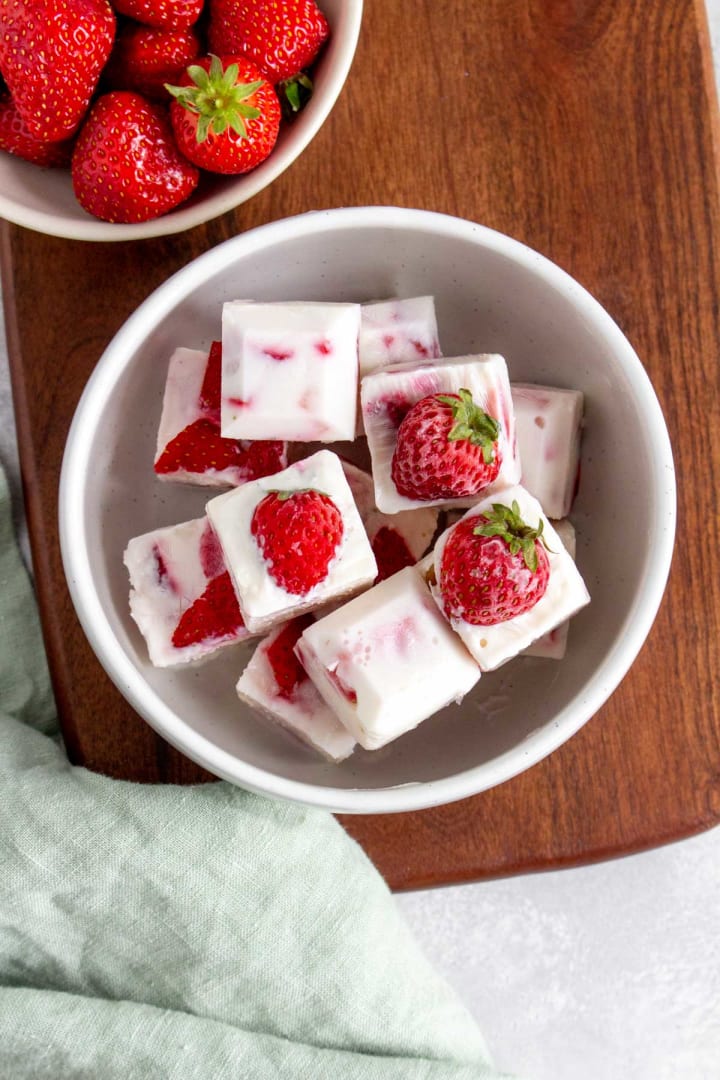 Let's tackle some common questions about strawberry jello yogurt bites.
1. Can I use a different flavor of jello?
Absolutely! While strawberry is a classic choice, feel free to experiment with other flavors like raspberry or cherry.
2. How long do strawberry jello yogurt bites last?
Stored in an airtight container in the fridge, your bites should stay fresh for up to 3-4 days. However, for the best texture and flavor, I recommend enjoying them within 24 hours of making them.
3. Can I make my strawberry jello yogurt bites vegan or gluten-free?
Certainly. For a vegan version, replace the regular yogurt with a plant-based alternative, and use a vegan-friendly jello. For a gluten-free version, simply ensure all your other ingredients are gluten-free.
Serving Suggestions: Unlocking the Potential of Strawberry Jello Yogurt Bites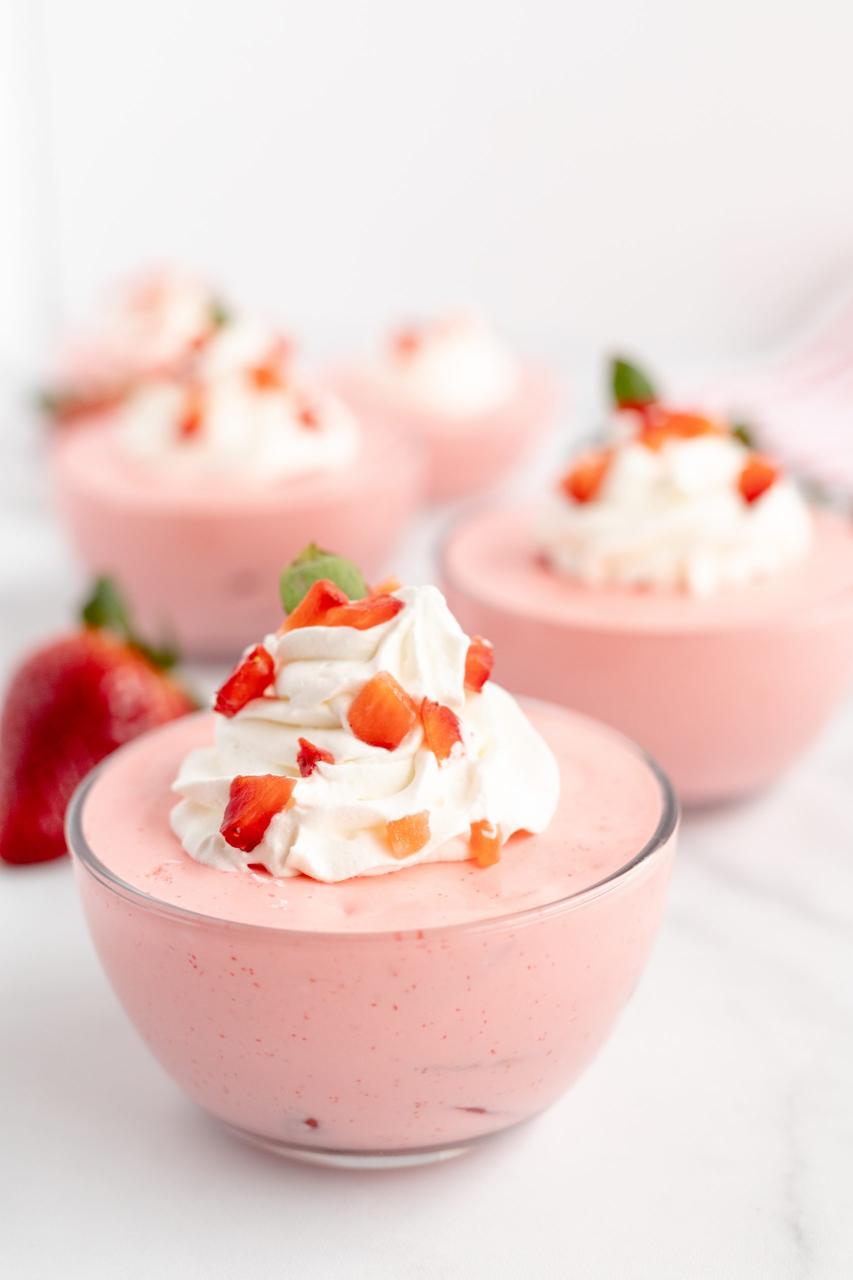 As we near the end of our sweet adventure, let's explore the many ways you can serve strawberry jello yogurt bites.
Pair them with a cup of tea for a perfect afternoon treat. Serve them as a dessert at a dinner party for a sweet ending to the meal. Or enjoy them as is – they're that good!
Remember, strawberry jello yogurt bites are more than just a dessert; they're a celebration of flavors and textures. Each bite offers a unique experience, turning even the simplest snack into a gourmet treat.
So there you have it: a journey through the wonderful world of strawberry jello yogurt bites. As we wrap up, I hope you're inspired to embark on your own culinary adventures. Whether you're a seasoned cook or a kitchen newbie, the joy of creating and savoring these delightful bites is universal.
Until our next foodie adventure, bon appétit!