Hello there, fellow food enthusiast! I cannot begin to express my excitement as I share one of my all-time favorite dishes – Roasted Sweet Potatoes with Honey and Cinnamon. Yes, you read it right! And believe me, mentioning it thrice won't be enough to showcase my love for this heavenly creation.
Roasted Sweet Potatoes with Honey and Cinnamon – just saying the name fills the room with a warm, sweet aroma that's simply irresistible. This dish combines the earthy sweetness of sweet potatoes, the comforting warmth of cinnamon, and the sticky sweetness of honey, all roasted to perfection. It's an easy-to-make, palate-pleasing delight that's not just a treat to your taste buds but also packs a nutritional punch!
ROASTED SWEET POTATOES WITH HONEY AND CINNAMON RECIPE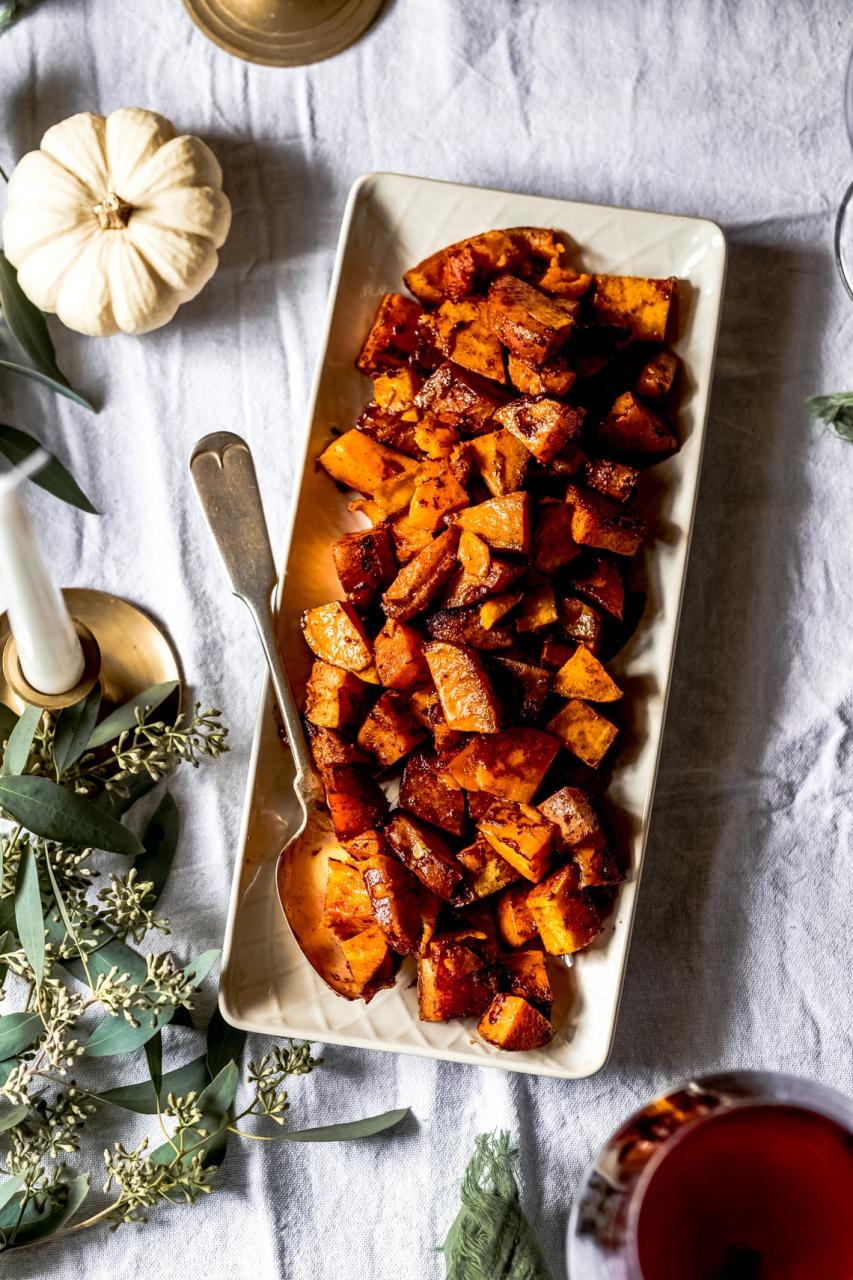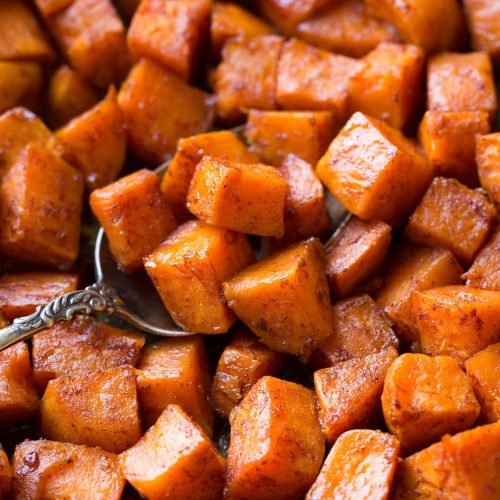 ROASTED SWEET POTATOES WITH HONEY AND CINNAMON
Equipment
1 oven

1 large bowl

1 sheet pan
Ingredients
2

sweet potatoes

2

T

honey

2

T

olive oil

1

tsp

cinnamon

½

tsp

salt

½

tsp

pepper
Instructions
Pre-heat oven to 375 degrees

Peel and dice sweet potatoes into 1" cubes

In a large bowl combine honey, olive oil, cinnamon, salt and pepper

Add sweet potatoes and toss to coat

Place on a sheet pan in a single layer and roast 30 min, turning about half way through
Cooking Tips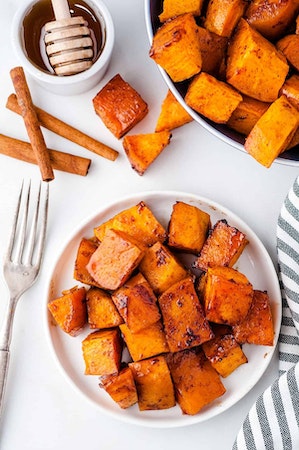 As we embark on this culinary journey together, there are a few tips you want to keep in mind.
Firstly, choose your sweet potatoes thoughtfully. Go for ones that are firm, without any blemishes or signs of decay. You want that perfect, vibrant orange glow when you cut them open.
Secondly, how you cut your sweet potatoes matters. Aim for even pieces, so they cook uniformly and you don't end up with some undercooked while others are burnt.
Lastly, don't skimp on the quality of your honey and cinnamon. They may seem like supporting players, but trust me, the better the quality, the more delectable your roasted sweet potatoes will be.
FAQs
I also wanted to address some questions that come up frequently when discussing roasted sweet potatoes with honey and cinnamon.
Can I substitute maple syrup for the honey?

Of course! Maple syrup gives a slightly different flavor profile, but it's equally delicious.

Can I use pre-ground cinnamon instead of freshly ground?

You certainly can, but fresh cinnamon has a vibrant flavor that's hard to beat.
Serving Suggestions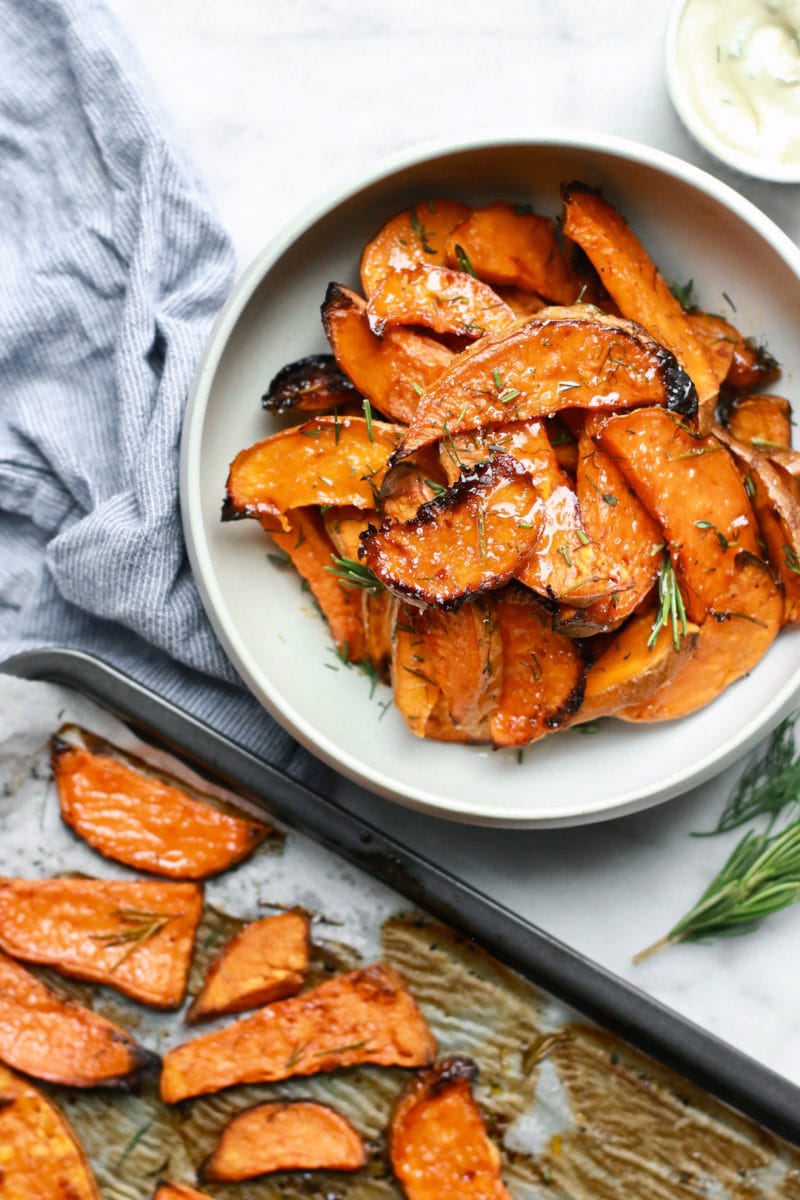 Now, let's talk about serving this delightful dish. Roasted sweet potatoes with honey and cinnamon make a fantastic side dish for your Thanksgiving dinner or any autumnal meal. Pair them with a roasted chicken or turkey for a classic combination.
If you're like me and have a bit of a sweet tooth, they can also be served as a dessert! Just add a dollop of vanilla ice cream on the side, and you've got an indulgence that's not overly sweet but still satisfies those cravings.
Conclusion: Roasted sweet potatoes with honey and cinnamon are more than just a dish; they represent the joy of seasonal cooking, the pleasure of simple ingredients coming together in harmony, and the satisfaction that comes from creating something truly delicious. So go ahead, give it a try, and let the sweet symphony of flavors play a tune your taste buds won't soon forget.
Remember, my friends, the joy of cooking lies not just in the end product but also in the journey. And this journey, filled with sweet potatoes, honey, cinnamon, and lots of love, is one worth taking. Enjoy!