OCTOBERFEST is here! These beer cheese pretzels fall right into the theme of Octoberfest here in Minnesota. I found some pumpkin beers at Total Wine and had to buy them. I knew I would find something awesome to make with them and these pretzels and beer cheese are just the thing. The beer is from Elysian Brewery which is out of Seattle Washington. Anything pumpkin is coming home with me. I am always on the lookout for unique ingredients that can be used to cook with. This sampler comes with some really dark coffee pumpkin beers also…I'm still trying to figure out what I'm going to do with those. You can find out more about their brewery here: Elysian Brewery.
I found this recipe from Half Baked Harvest, the original recipe (Pumpkin Beer Pretzels with Chipotle Queso) has a different cheese dip to go along with it. Her website has some great recipes with some amazing pictures. If you have a chance please check it out.
But, I had all this pumpkin beer so I wanted to find a beer cheese dip to use to compliment the beer in the pretzel dough. I found this beer cheese fondue from Schnucks Youtube channel that seemed to be a good match. These do take some time to let the dough rise and boiling the pretzels can be a bit tricky but the end result is so delicious. Homemade pretzels just have so much more flavor and when they come out of the oven warm and freshly baked the whole house smells so good.
Pumpkin Beer Cheese Pretzels Recipe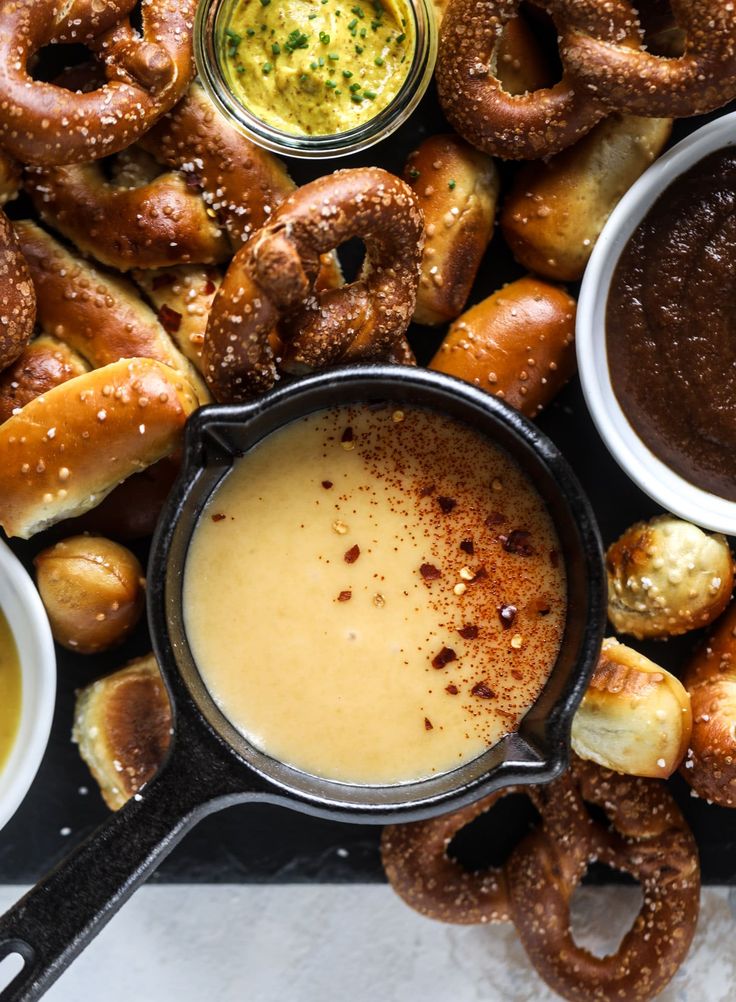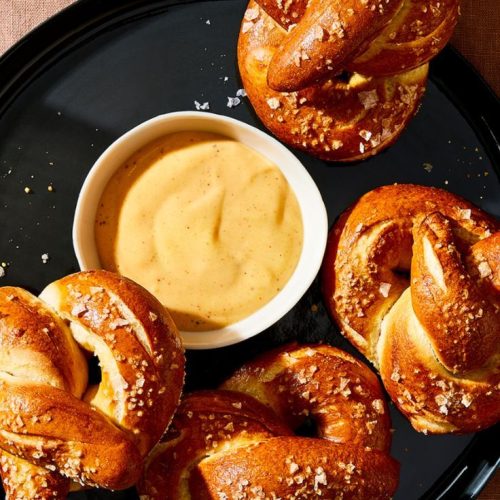 Pumpkin Beer Cheese Pretzels
Equipment
1 bowl

1 oven

1 large bowl

1 towel or plastic wrap

1  large flat slotted spatula
Ingredients
For the Pretzels:

½

c.

warm water

2

T

light brown sugar

2¼

tsp

active dry yeast

1

c.

pumpkin beer room temp

½

c.

butter

1 stick

1½

tsp

kosher salt

4½

c.

AP flour

¼

c.

baking soda

1

egg beaten for brushing

coarse sea salt or pretzel salt

For the cheese dip:

1

bottle pumpkin beer

1

T

apple cider vinegar

4

oz

gruyere cheese grated

4

oz.

cheddar cheese grated

4

oz.

cream cheese at room temperature
Instructions
For the pretzels:

Combine water, brown sugar & yeast in the bowl of a stand mixer and mix with the dough hook until combined. Let sit 5 min.

Add beer, melted butter, salt and flour to the mixer. Mix on low speed until combined. Increase speed to medium and continue kneading until the dough is smooth and begins to pull away from the sides of the bowl, about 3-4 minutes. If the dough appears too wet, add additional flour 1T at a time.

Remove dough from the bowl, place on a flat surface and knead into a ball with your hands.

Coat a large bowl with canola oil, add the dough and turn to coat with the oil. Cover with a towel or plastic wrap, and place in a warm place until the dough doubles in size. About an hour or so.

Preheat oven to 425. Bring a large pot of water to a boil.

Remove the dough from the bowl and place on a flat surface. Divide the dough into 8 equal pieces.

Roll each ball into a long rope.

To shape pretzels take the right side and cross over the left, cross the right to left again and flip up.

Slowly add baking soda to the boiling water and reduce heat to at heave simmer.

Add pretzels two at a time to the water and boil for 30 seconds, splashing the tops with warmed water using a spoon.

Remove with a large flat slotted spatula.

Place 4 pretzels on a baking sheet, brush tops with egg wash and sprinkle liberally with salt.

Bake 10-15 min until golden brown.

Cheese dip

Heat beer and vinegar to a simmer and simmer 25-30 min until it reduces by half.

Grate cheese about a cup or so each

With a whisk add cream cheese to sauce/beer mix.

Stir until well combined.

Reduce heat to low and add cheese.

Whisk until melted and serve with warmed pretzels.
Cooking Tips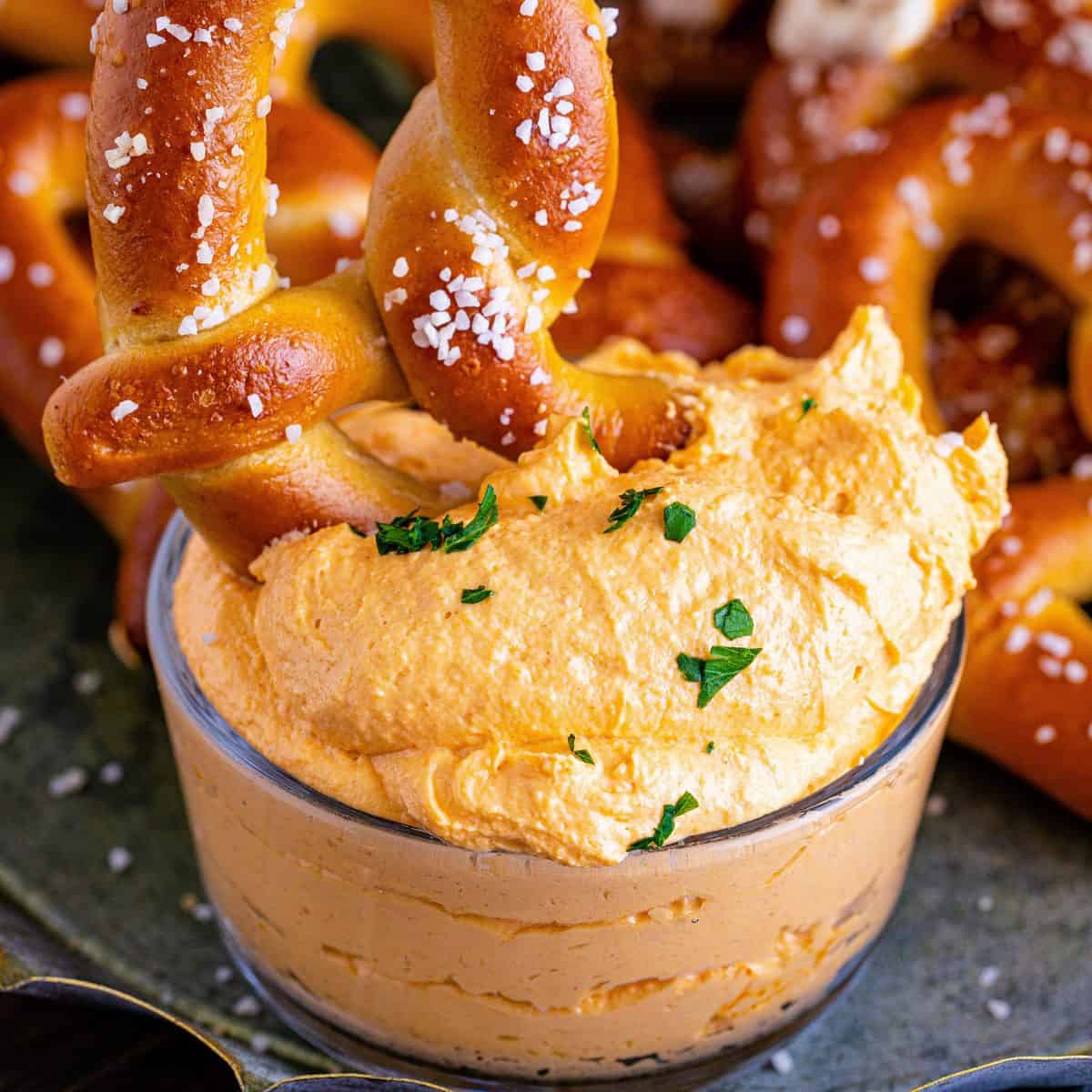 Before we delve deeper, here are some cooking tips to enhance your Pumpkin Beer Cheese Pretzels:
Choosing the Right Beer: Opt for a pumpkin ale. It lends a subtle sweetness and depth of flavor that complements the cheese beautifully.
Cheese Matters: A sharp cheddar works best in this recipe. It melts well and adds a tangy contrast to the sweetness of the pumpkin.
Pretzel Perfection: Homemade pretzels are always a winner, but if you're short on time, store-bought ones work just fine.
FAQs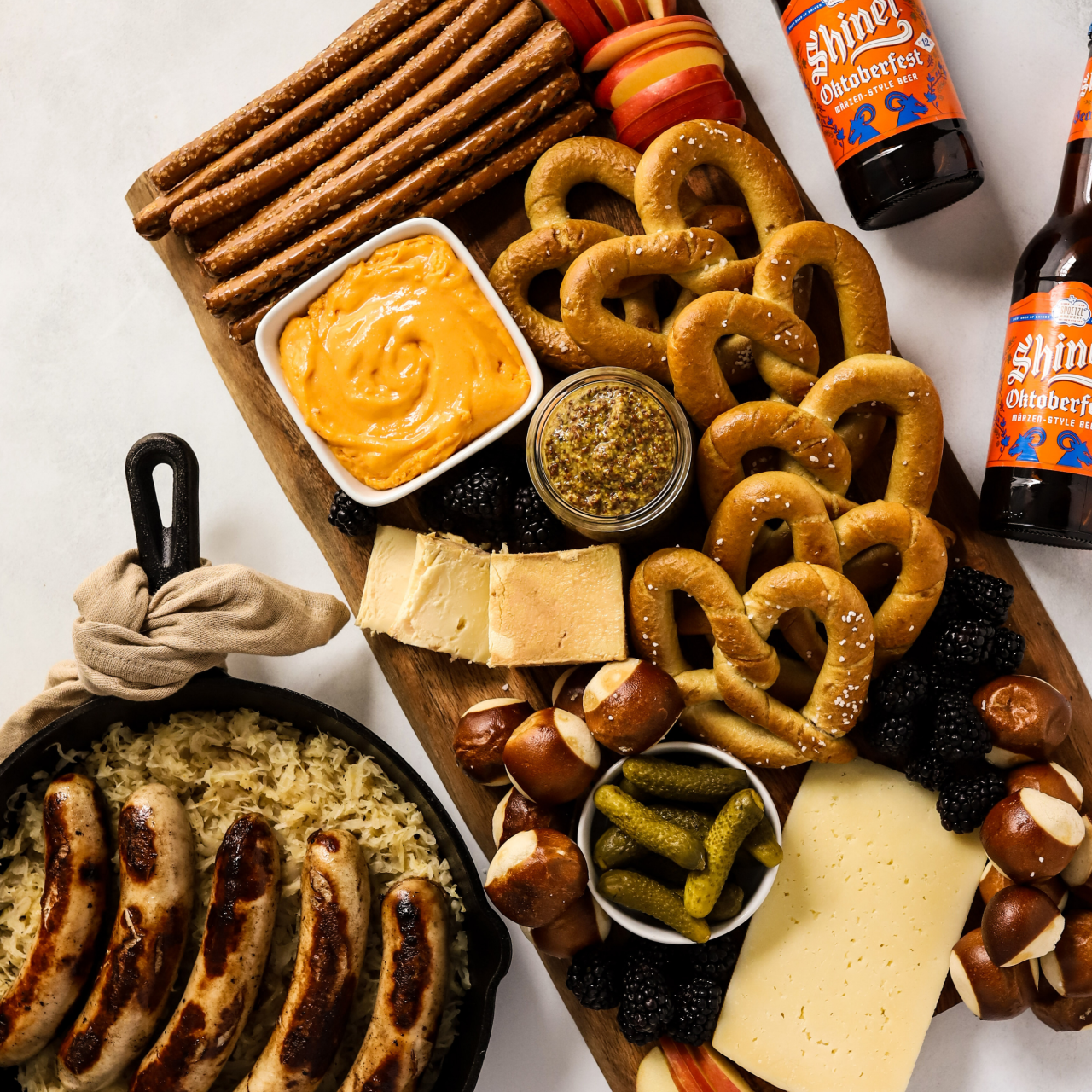 Let's tackle some frequently asked questions about Pumpkin Beer Cheese Pretzels:
Can I use non-alcoholic beer? Yes, but it may alter the flavor profile slightly.
What can I serve with Pumpkin Beer Cheese Pretzels? They pair wonderfully with a crisp salad or a hearty soup.
Can I make the cheese sauce ahead of time? Absolutely! Just reheat it gently before serving.
How To Serve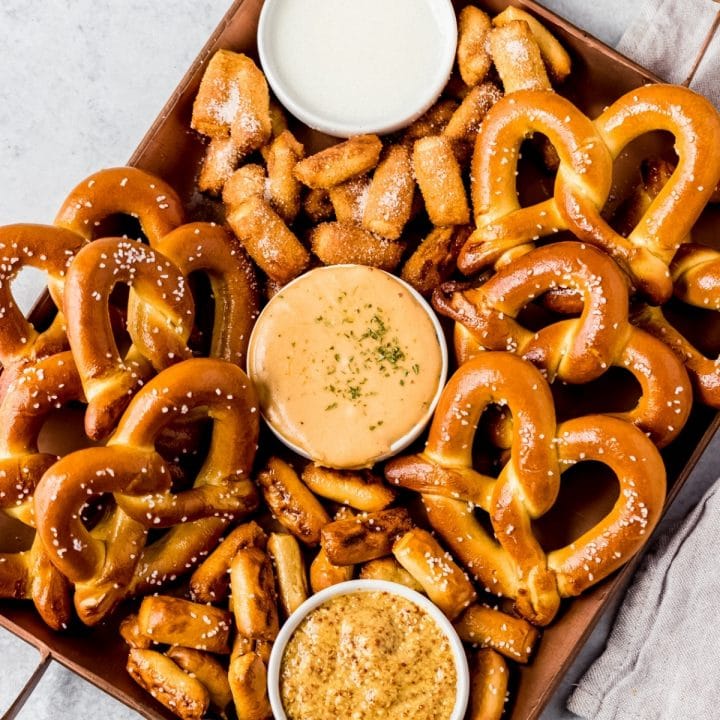 Serving Pumpkin Beer Cheese Pretzels is all about creating a cozy, festive atmosphere. I like to present them on a large platter, with the beer cheese sauce in a warm bowl in the center. The pretzels, golden and glistening, look irresistible dipped into the creamy, bubbling sauce. Pair it with a glass of the same pumpkin ale used in the recipe, and you've got a match made in heaven.
Here's where you can let your creativity shine. Try serving your Pumpkin Beer Cheese Pretzels with some spicy mustard for an extra kick. Or how about a sweet and tangy cranberry dip for a festive twist? The sky's the limit!
In essence, Pumpkin Beer Cheese Pretzels are more than just a dish – they're a celebration of fall flavors. They bring warmth and joy to any gathering, leaving everyone reaching for seconds. With these tips and suggestions, you're well-equipped to create a batch that's sure to impress. So put on your favorite apron, roll up your sleeves, and let the baking begin!
Remember, cooking is an art. Don't be afraid to experiment and add your own personal touch to this recipe. Happy baking, my fellow food enthusiasts!
Postscript: Do you have a unique variation of Pumpkin Beer Cheese Pretzels? A secret ingredient that takes it up a notch? I'd love to hear about it!