Twice baked potatoes are one of my favorite side dishes. When I found this recipe, I knew I had to make them to go with the Smoked BBQ Baby Back Ribs. In my quest for the perfect ribs, I stumbled upon this fantastic recipe for Smoked Twice Baked Potatoes. Making these potatoes in the smoker takes the flavor to the next level, creating a perfect accompaniment to the ribs.
While experimenting with the smoker, I realized the importance of having the right tools, especially when it comes to preparing a show-stopping prime rib. That's why I began researching the Best Roasting Pan For Prime Rib to ensure that my culinary creations are not only delicious but also perfectly cooked. Back to the potatoes—although they take some time to cook in the smoker, and patience is not always my strong suit, the end result was worth it. Admittedly, I couldn't resist checking on them after three hours, but they needed a bit more time, so I opted to finish cooking them in the microwave.
Once ready, these twice baked potatoes turned out to be a delightful combination of flavors. After their three-hour smoke bath, I mixed up the insides with cream cheese, heavy cream, bacon, 1/2 stick of butter, and some rub seasoning. I then stuffed the flavorful filling back into the potatoes, topping them with cheddar cheese and more bacon for an irresistible twist.
Twice Baked Potatoes In The Smoker Recipe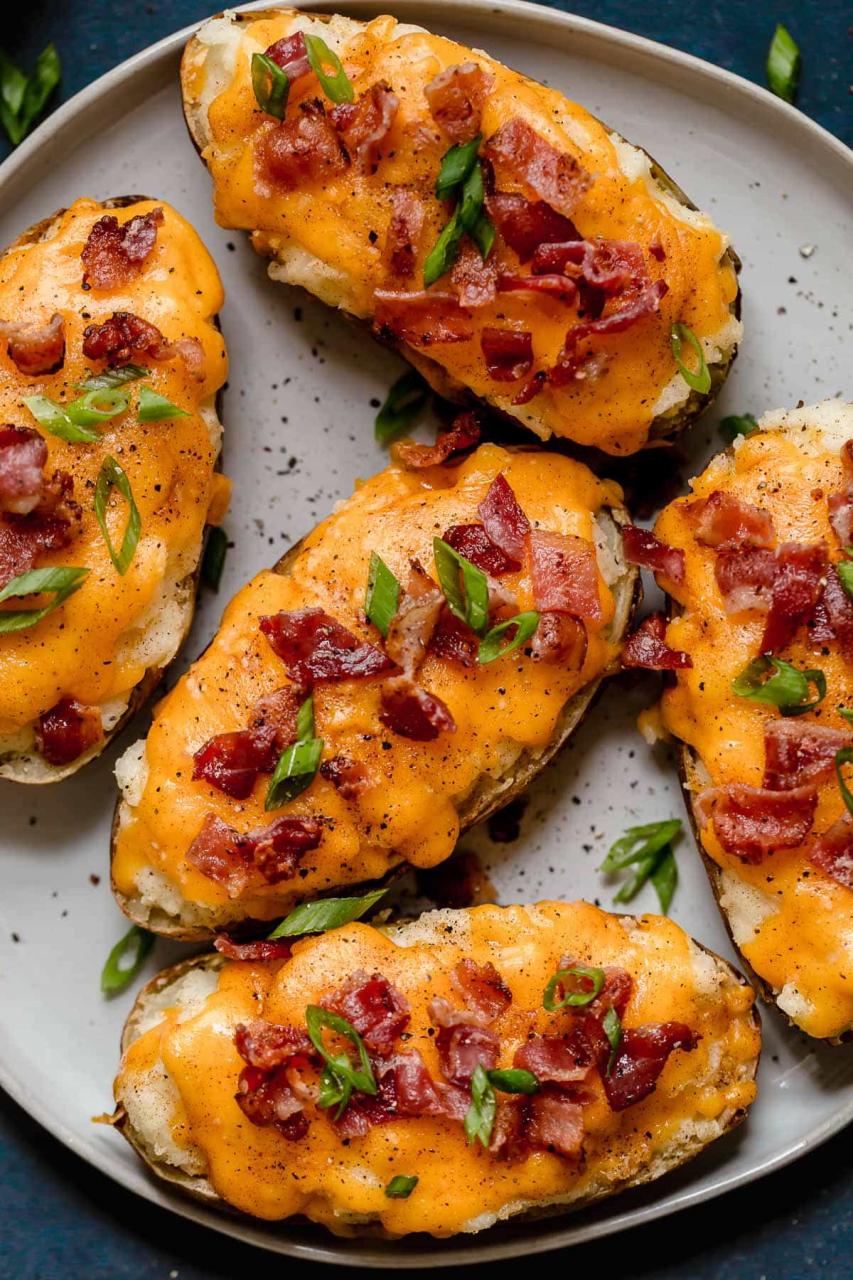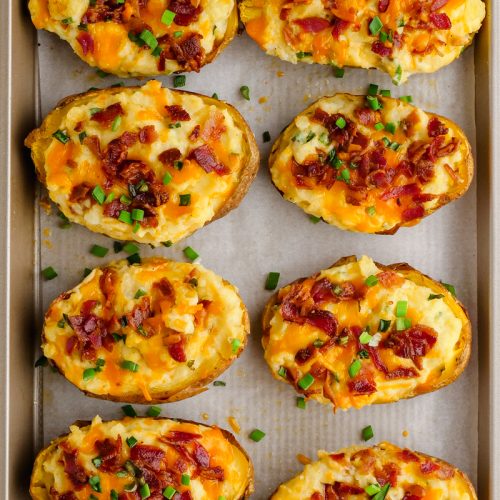 Twice Baked Potatoes in the Smoker
Ingredients
6

baking potatoes

1.5

cup

shredded cheddar cheese

4

oz

cream cheese

1.5

stick butter

1

tbsp

your favorite rub seasoning

6-8

slices

bacon

1.5

cup

heavy cream

2-3

tbsp

diced chives
Instructions
Wash potatoes

Poke holes in the potatoes and rub with oil

Put in smoker at 240 for 3 hours

Cut potatoes in half and scoop out the insides into a bowl

Mix cream cheese, bacon, rub, butter, heavy cream and 1 c. of cheddar cheese with potatoes

Stuff back into the potato skins

Top with remaining cheese and bacon

Put back into the smoker for 30 min until the cheese is melted

Remove from smoker and top with chives.
Cooking Tips for Perfect Twice Baked Potatoes in the Smoker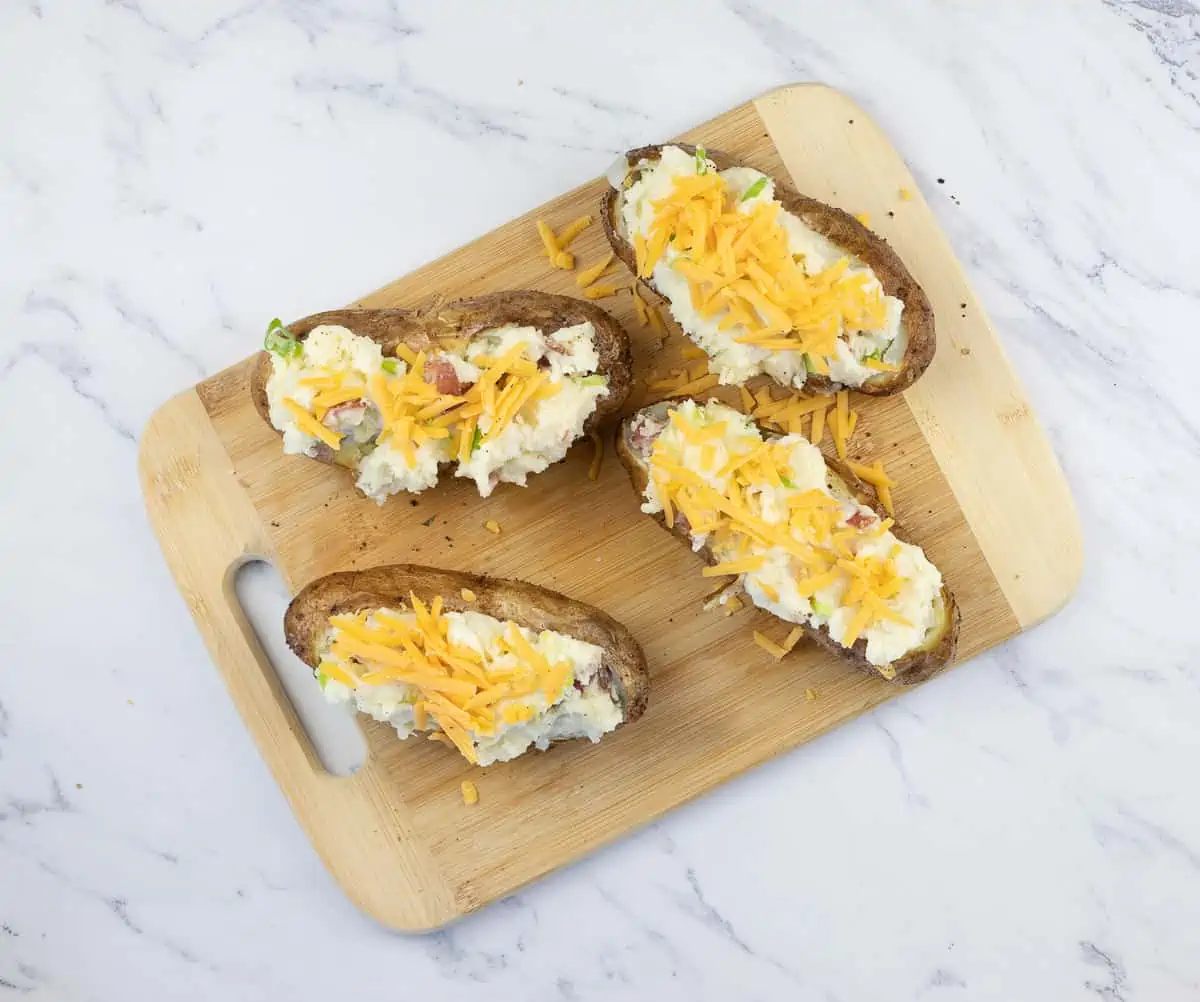 Getting twice baked potatoes right is a delicate balance, but with a few tips up your sleeve, you'll be turning out restaurant-quality spuds in no time.
Pre-smoke Prep: Make sure your potatoes are thoroughly cleaned before starting. Any dirt on the skin can ruin the flavor of your smoked potatoes.
Choosing Your Wood: The type of wood chips used in your smoker plays a crucial role in imparting flavor. For potatoes, a mild wood like apple or cherry is ideal.
Temperature is Key: A low and slow approach is the best way to smoke your potatoes. This ensures that they're evenly cooked and perfectly smoked.
How to Serve Your Twice Baked Potatoes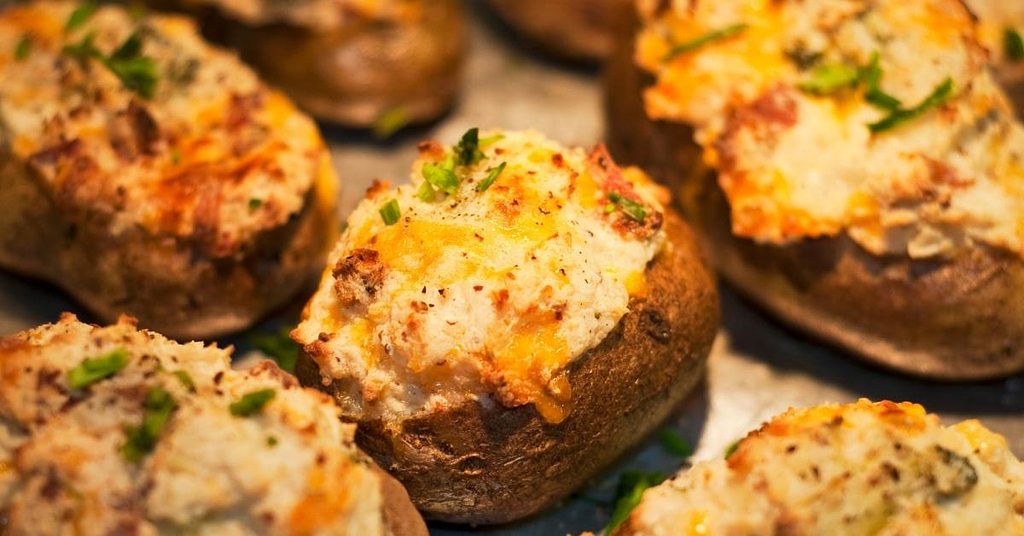 Serving twice baked potatoes in the smoker is an art in itself. Pair them with a juicy steak or a perfectly grilled chicken for a hearty meal. Or, if you're like me who can never have enough potatoes, serve them alongside a fresh salad like a Paleo Baked Potato Salad for a light, yet fulfilling lunch. And don't forget a dollop of sour cream or a sprinkle of extra cheese on top for that perfect finishing touch!
FAQs on Twice Baked Potatoes in the Smoker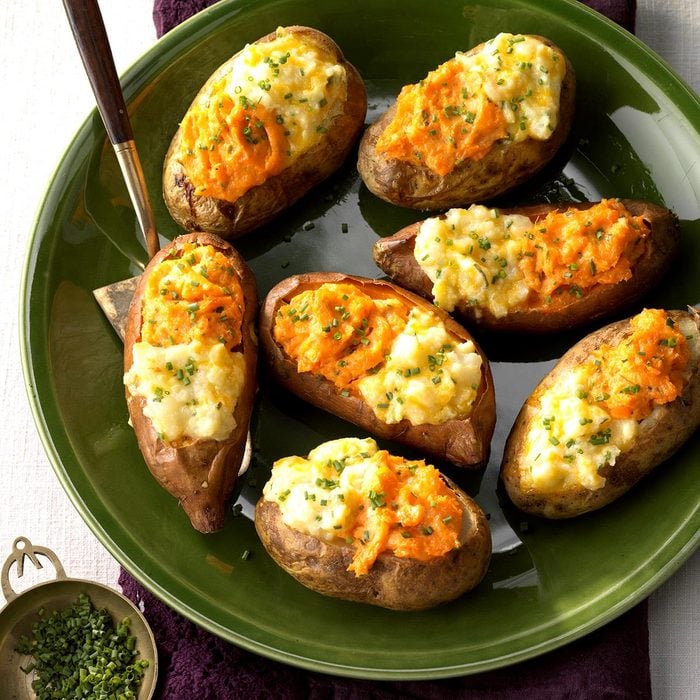 Q: Can I make twice baked potatoes ahead of time? A: Absolutely! You can prepare the potatoes up to the point of the second baking and refrigerate them. When you're ready to serve, just pop them in the smoker.
Q: What's the best filling for twice baked potatoes? A: The beauty of these potatoes is their versatility. You can fill them with anything from cheese, bacon, chives, to more adventurous fillings like smoked salmon or caramelized onions.
To sum it up, twice baked potatoes in the smoker are a mouthwatering treat that's sure to impress at any meal. With the right preparation and a bit of creativity, you can transform this humble vegetable into a memorable dish. So, get out there and start experimenting with your favorite fillings and flavors – the world of twice baked potatoes awaits!
Remember, good food is not just about following a recipe, but the love and joy of creating something delicious. Here's to making every meal an adventure. Happy cooking, folks!