Chicken enchiladas are so yum! I haven't made these in a while and I am very much regretting it now. Usually I make a bunch of food on Sunday and then throw most of it out by Thursday because no one eats leftovers. These were gone by Tuesday! And I'm pretty sure Scott was the only one who ate them, besides the one helping I had on Sunday. The plan was actually to make these last week and I had the chicken cooked up and in the freezer so that made the process go a bit quicker. The recipe I started with is from Sandy Toes and Popsicles and can be found here Easy Chicken Sour Cream Enchiladas. I made a couple changes like using cilantro instead of parsley and adding jalapeno to the chicken mixture to add a kick. I love spicy and could have added more, but no one else likes their food as hot as I do so I just add some Tobasco on mine.
When making these I used canned mild LaVictoria enchilada sauce. But make your own if you're feeling ambitious. Once I tried making homemade enchilada sauce many years ago and it wasn't great. I should probably try and do that again. Cooking with dried chili peppers scares me, maybe it's time to face my fears! Maybe not…
Well, on to the enchiladas. To prepare the tortillas put a tablespoon or two of enchilada sauce on the tortilla and add about a 1/4 to 1/2 cup of the chicken mixture depending on how big your tortillas are. I just had the regular taco shells so there was chicken left over. If you have leftovers just spread it on top of the tortillas before the rest of the sauce is put on them.
Chicken Enchiladas Recipe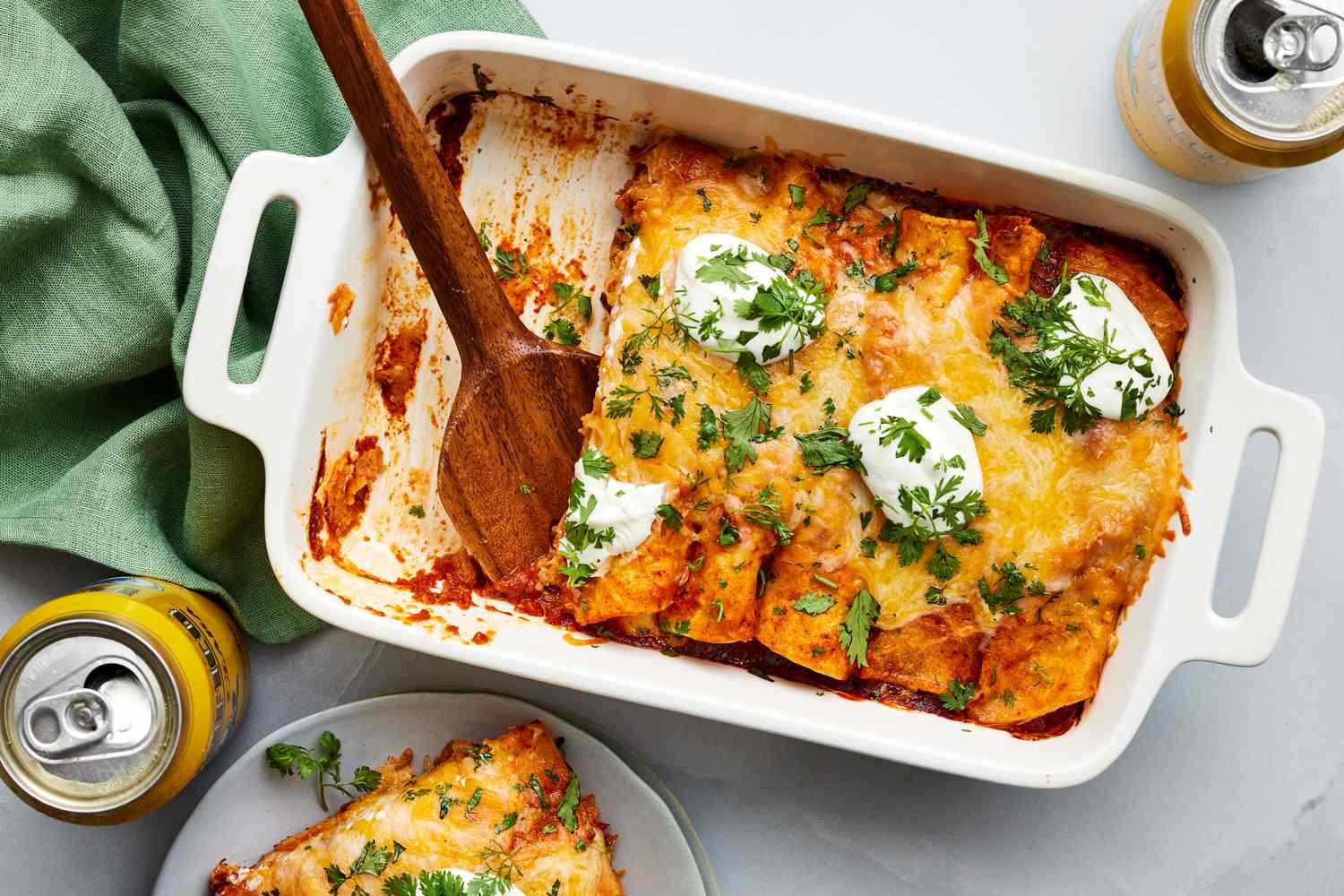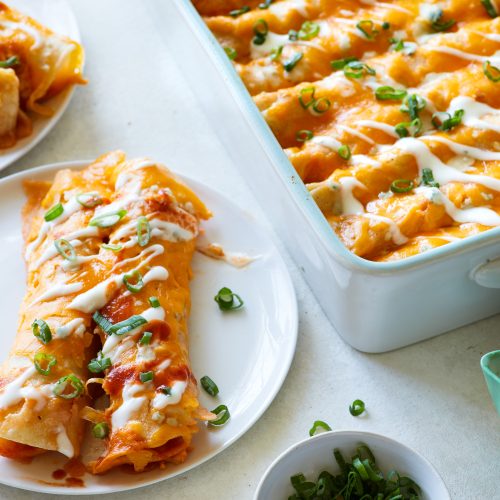 CHICKEN ENCHILADAS
Join me on a culinary journey with these mouthwatering chicken enchiladas! Discover the secrets to making them perfectly. Don't forget to share the recipe and subscribe for more delicious delights!
Equipment
1 oven

1 large sauce pan

1 baking dish
Ingredients
3-4

cups

cooked shredded chicken

1

med 

onion

1

tsp

 olive oil

1

c. sour cream

1/2

c. chopped cilantro

1

jalapeno diced

2

cloves

garlic minced

1

large can enchilada sauce

4

c. shredded Mexican cheese blend

10-16

flour tortillas
Instructions
In a large sauce pan over medium heat add a tsp of olive oil. Add onions, garlic and jalapeno, cook until translucent. Stir often.

Combine chicken to onion mixture and stir to combine

Pour ½ c enchilada sauce over chicken and onion mixture, add sour cream and cilantro. Stir to combine.

Turn off the heat and add 2 c. of the shredded cheese.

Spray a 9 X 13 baking dish with non-stick spray, pour just enough enchilada sauce to cover the bottom.

To fill tortillas put 1-2 tablespoons of sauce on the tortilla and add ¼-1/2 cups of the chicken mixture.

Roll tortillas and place in the baking dish. Repeat until chicken mixture is used up.

Pour remaining sauce over the enchiladas and spread evenly.

Top with remaining cheese and cover with foil sprayed with non-stick spray so the cheese doesn't stick.

Bake 20 minutes, remove foil and bake another 10-15 minutes until cheese is bubbly and melted.

Garnish with more cilantro.
Notes
Taste Testing is Key: Don't be shy about tasting as you go. This is the best way to ensure your enchiladas are seasoned to perfection. Adjust spices, salt, and other seasonings to suit your taste buds.
Tortilla Warm-Up: Warming up tortillas is not just about making them pliable; it also enhances their flavor. A quick sizzle in a dry skillet can work wonders.
Cheese Matters: The type of cheese you use can make a big difference. While cheddar is a classic choice, you can experiment with Monterey Jack, queso fresco, or a blend for unique flavors.
Don't Overdo the Filling: Overstuffing can lead to messy enchiladas. A moderate amount of filling allows for easy rolling and a tidy result.
Rest and Settle: After baking, give your enchiladas a few minutes to rest before serving. This allows the flavors to settle and ensures they hold together when you plate them.
Serving Suggestions for Chicken Enchiladas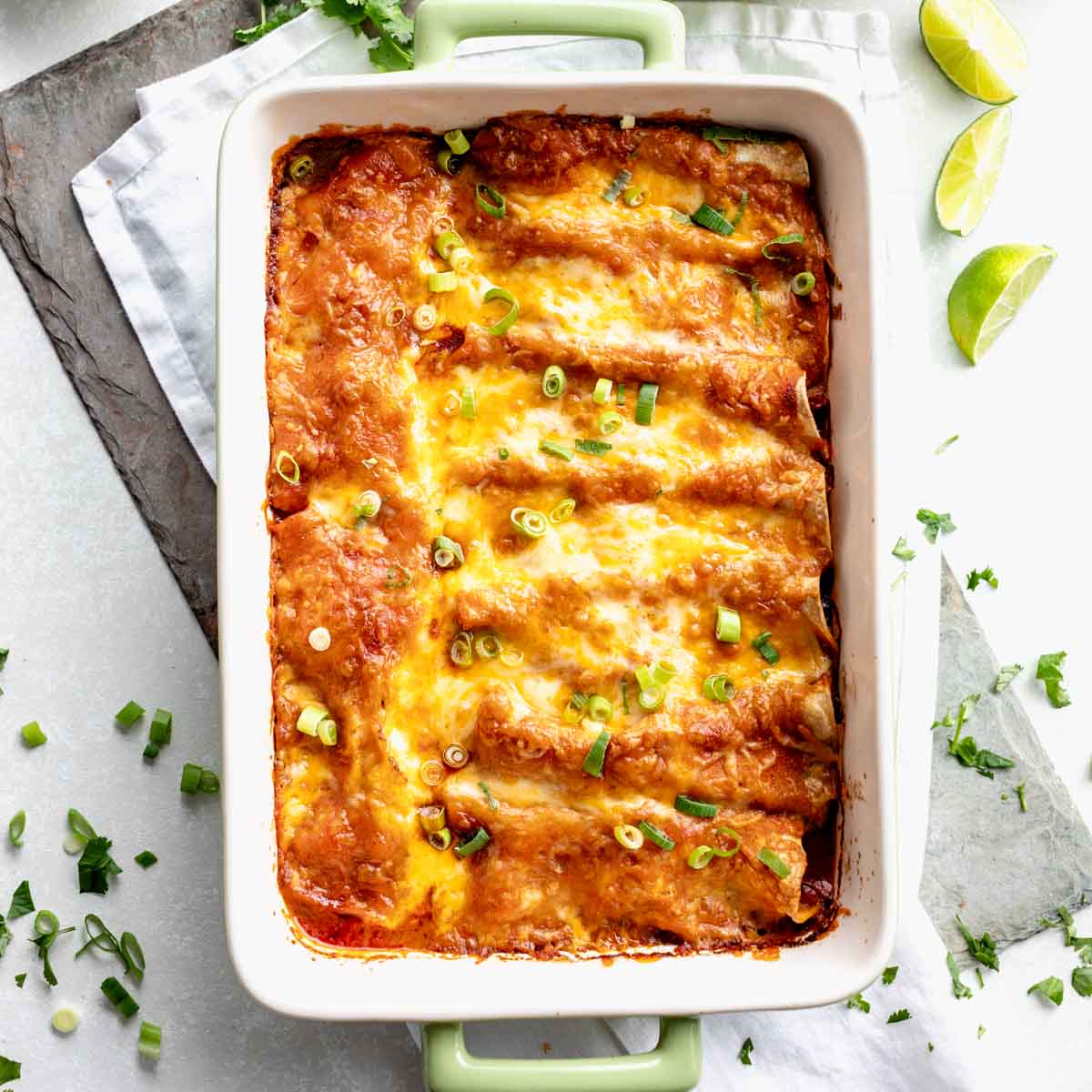 Ah, chicken enchiladas! A delightful dish that effortlessly blends the richness of tender chicken with the tangy zestiness of authentic Mexican spices. But how do you elevate this already scrumptious meal? Let's dive into some serving tips!
Pairing chicken enchiladas with the right sides and garnishes can truly enhance your dining experience. A traditional Mexican rice or cilantro-lime rice both make excellent accompaniments, their light and fragrant flavors balancing the heartiness of the enchiladas beautifully. For a lighter side, consider a crisp salad tossed with fresh lime vinaigrette.
As for garnishes, a sprinkle of fresh chopped cilantro, diced avocados, and a squeeze of lime can bring a refreshing twist to the dish. A dollop of sour cream or guacamole can also add a creamy contrast to the spicy enchilada sauce.
Don't forget about beverages! A tangy margarita or a chilled Mexican beer like Corona or Modelo would complement the zesty flavors of the enchiladas. For a non-alcoholic option, a homemade horchata or a cool glass of lemonade could be equally satisfying.
Cooking Tips for Chicken Enchiladas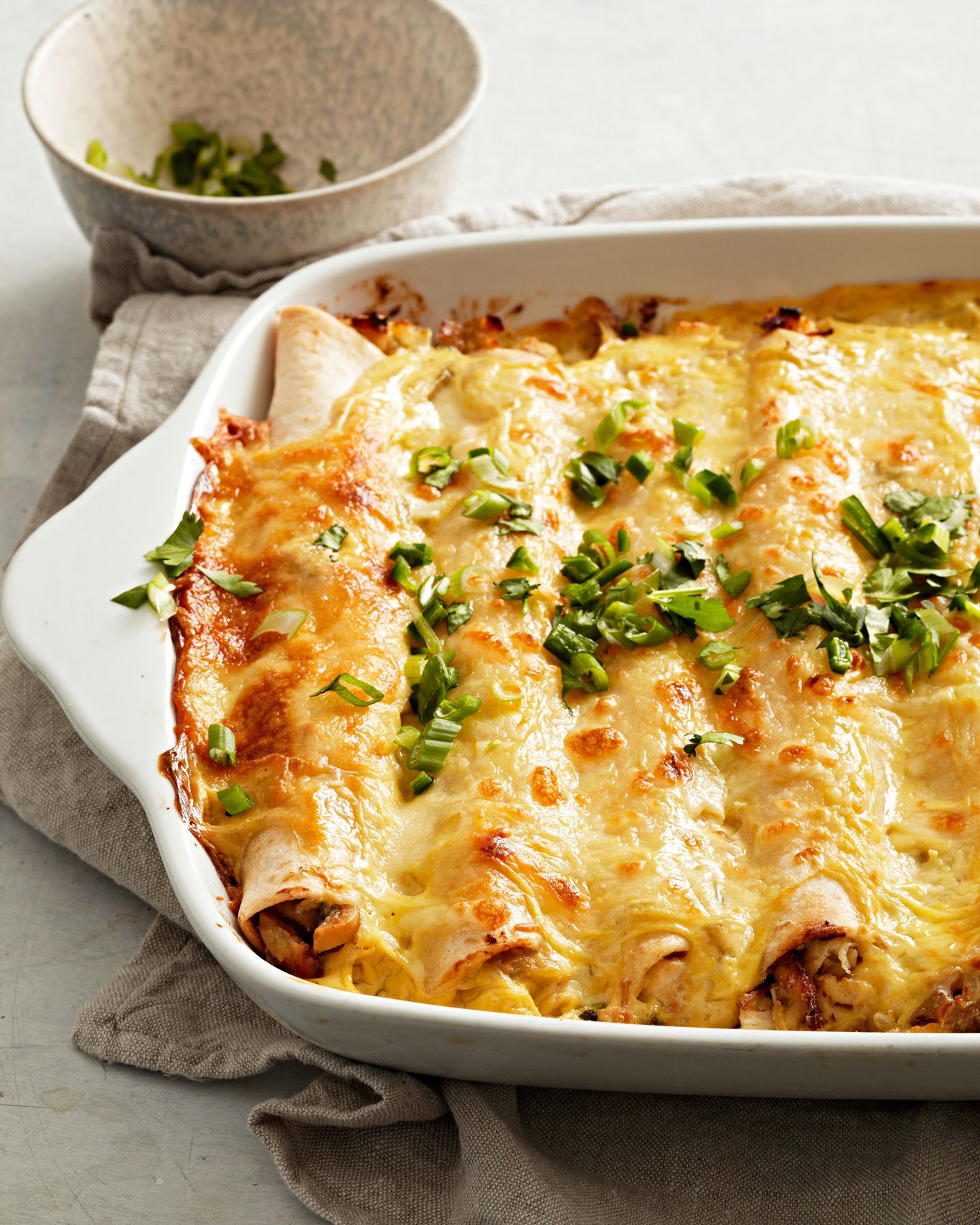 Now, let's roll up our sleeves and delve into the culinary art of making chicken enchiladas. It's not just about following a recipe, it's about understanding the process and avoiding common pitfalls.
One critical tip for achieving the best results is to season your chicken well. The chicken is the star of this dish, so ensuring it's flavorful is vital. Marinate it in a blend of Mexican spices for at least an hour before cooking to infuse it with robust flavors.
Another common mistake is overfilling the tortillas. While it may be tempting to load up on fillings, this can cause the enchiladas to fall apart during baking. Aim for a modest amount of filling that allows the tortilla to be rolled tightly.
Lastly, don't rush the baking process. The enchiladas should be baked until they're beautifully golden and the cheese is bubbly and slightly browned. This allows the flavors to meld together and the tortillas to become wonderfully crisp at the edges.
Frequently Asked Questions about Chicken Enchiladas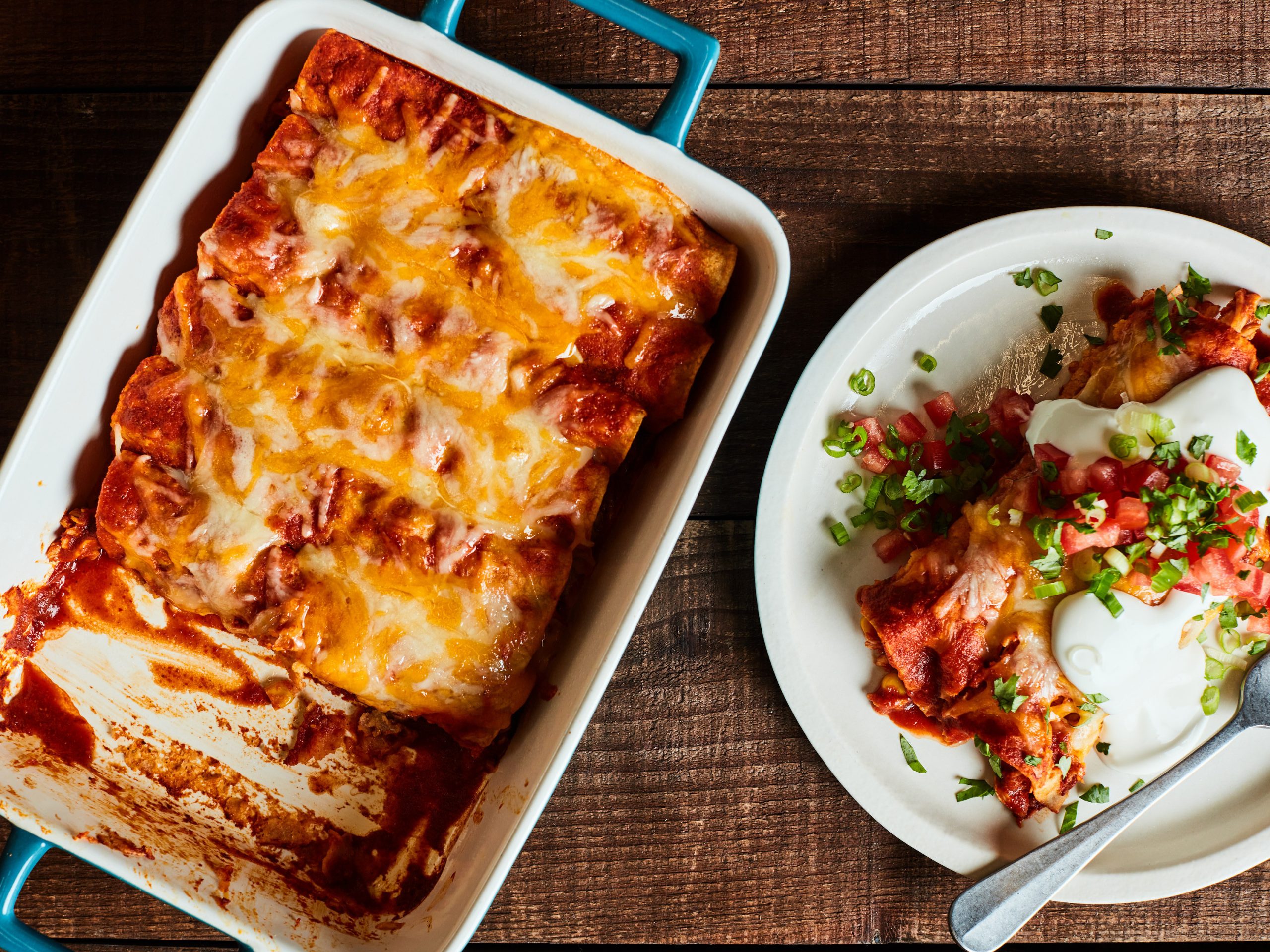 How can I store leftover chicken enchiladas? Leftover enchiladas can be stored in an airtight container in the refrigerator for up to 3-4 days. For longer storage, you can freeze them. Just make sure to let them cool completely before transferring to a freezer-safe container.
Can I use a different meat for enchiladas? Absolutely! While chicken is common, you can substitute it with beef, pork, or even shrimp. For a vegetarian version, try using beans, cheese, or sautéed vegetables as the filling.
What can I do if my enchiladas turn out too spicy? If your enchiladas are too spicy, adding a dollop of sour cream or guacamole can help balance the heat. You can also serve them with a side of rice or salad.
Why are my enchiladas soggy? Sogginess can result from overfilling the tortillas or not draining your ingredients properly. Make sure any cooked ingredients are drained well, and don't overload your tortillas.
What's the best way to reheat leftover enchiladas? For the best results, reheat your enchiladas in the oven. This helps them retain their texture better than microwaving. Preheat your oven to 375°F (190°C), cover the enchiladas with foil, and bake for about 15-20 minutes.
Discover the art of making Chicken Enchiladas with our detailed guide. Click now to learn more!