Indulge in the luxury of gourmet cooking right at your home with Barefoot Contessa's Shrimp Scampi Linguine. This delectable dish, infused with the taste of the sea and the richness of Italian cuisine, embraces simplicity while delivering an explosion of flavors. Dive in as we explore the step-by-step guide to create this exquisite delight.
Barefoot Contessa Shrimp Scampi Linguine Recipe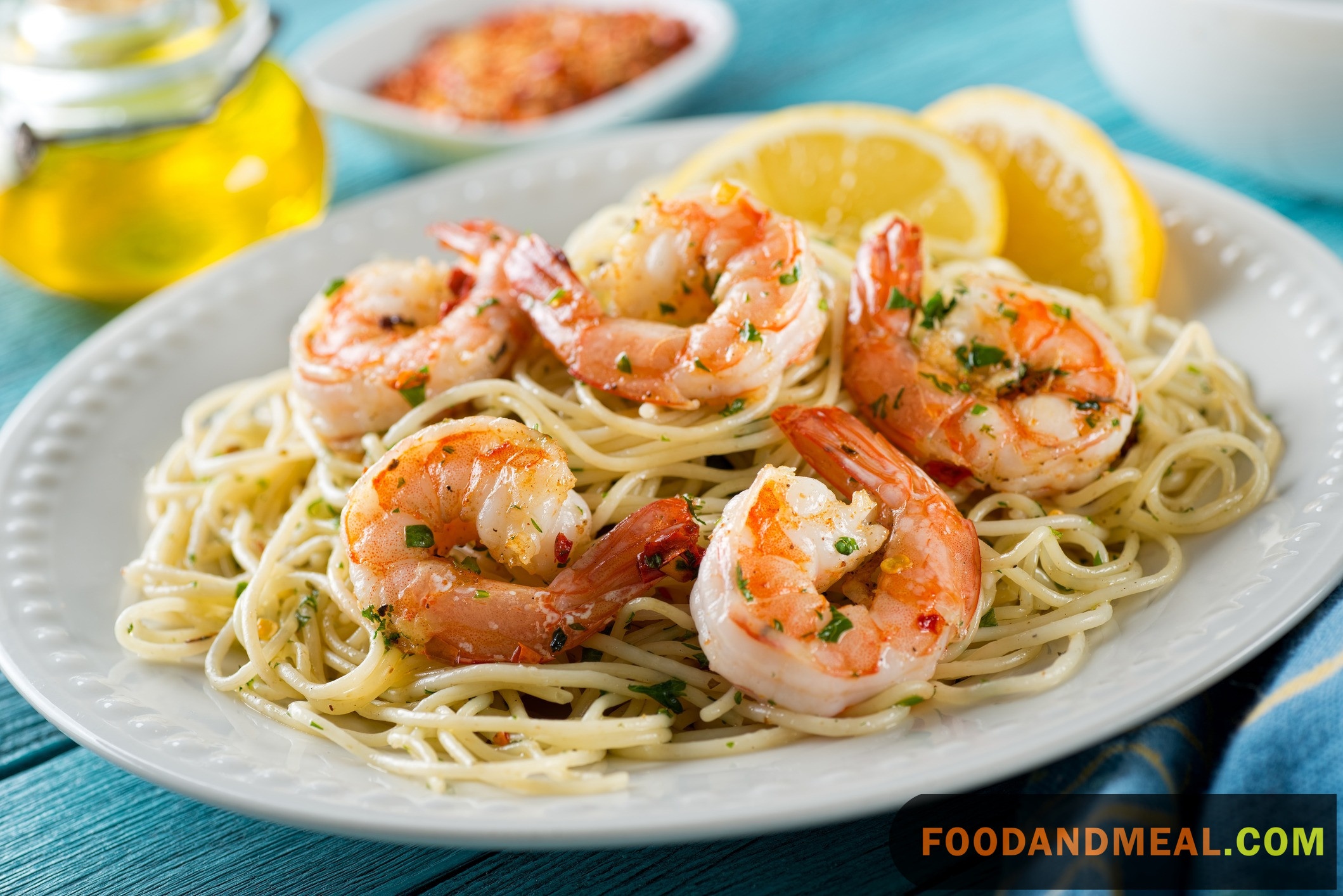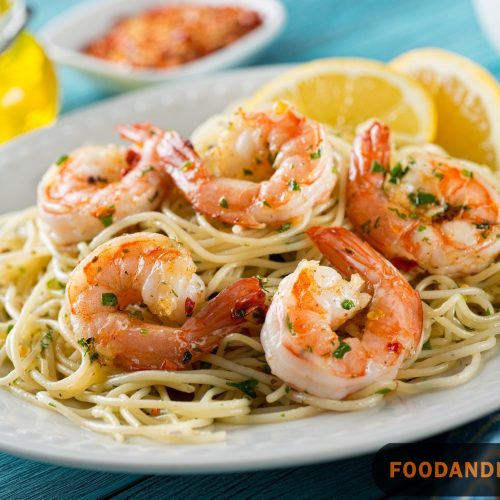 Barefoot Contessa Shrimp Scampi Linguine
Just prepared Barefoot Contessa's Shrimp Scampi Linguine and loved it? Don't keep this culinary delight to yourself! Share the recipe with your friends and family so they can enjoy it too. And don't forget to subscribe to our blog for more such delicious recipes straight from my kitchen to yours
Equipment
1 large pot

1 large skillet

1 stovestove
Ingredients
2

tbsp

Vegetable Oil

1

tbsp

Salt

1.5

pounds

linguine

6

tbsp

butter

5

tbsp

olive oil

3

tbsp

minced garlic

2

pounds

shrimp, peeled and deveined

1/2

tbsp

pepper

3/4

cup

chopped fresh parsley

1

 lemon zested

1/2

cup

fresh lemon juice

1/4

tbsp

hot red pepper flakes

1

cup

shredded Parmesan cheese

sliced lemon for garnish
Instructions
Drizzle some oil in a large pot of boiling salted water, add 1 T salt and the linguine. Cook for 7 to 10 minutes according to the package directions.

In a large skillet melt the butter and olive oil over low to medium heat. Add the garlic and saute for 1 minute. Be careful the garlic burns easily.

Add the shrimp, 1 tsp salt, ½ tsp pepper and saute until the shrimp are pink. Stirring often.

Remove from the heat and add the parsley, lemon zest, lemon juice and pepper flakes. Toss to combine.

When the pasta is done, drain the cooked linguine and add it to the skillet with the shrimp, toss to coat.

To serve garnish with the lemon slices and Parmesan cheese
Notes
Note: Freshness is key in this dish. Ensure you choose the freshest shrimp available for an authentic seafood flavor.
Note: Cooking pasta al dente is crucial. Overcooked pasta can turn your dish from a gourmet delicacy to a mediocre meal.
Note: Adjust the quantity of chili flakes and garlic as per your preference. Remember, it's all about curating the dish to suit your palate.
Remember, cooking is part science, part art, and wholly an act of love. Happy cooking!
Barefoot Contessa Shrimp Scampi Linguine using a best pressure cooker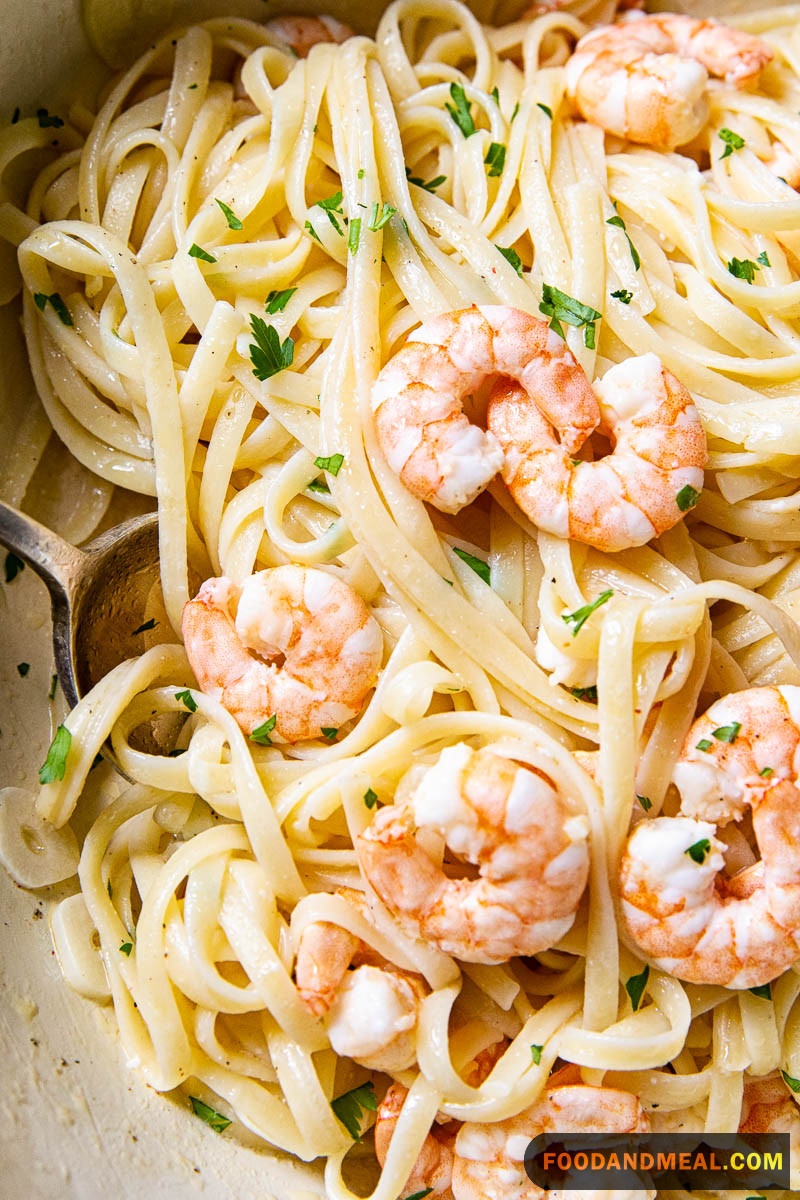 First things first, gather all your ingredients. You'll need shrimp, linguine, garlic, white wine, butter, olive oil, red pepper flakes, and parsley. Don't forget the salt and pepper for seasoning!
Start by setting your pressure cooker to the sauté mode. Add in the olive oil and butter, letting them melt together to form a beautiful base for our dish. Once it's hot, add in the minced garlic and red pepper flakes. Ah, the aroma that fills your kitchen is just divine!
Now, it's time for the star of the show – the shrimp. Add them into the pressure cooker, making sure they're evenly spread out. Sauté them until they turn pink, which should take about 2-3 minutes. Once done, remove the shrimp and set them aside. We'll be adding them back in later.
Next, pour in the white wine, scraping the bottom of the pot to deglaze it. This step is crucial as it lifts all those flavorful bits stuck at the bottom, infusing our dish with even more flavor. Let the wine simmer for a couple of minutes to let the alcohol evaporate.
Now, break the linguine in half and add it to the pot, ensuring it's fully submerged in the liquid. Secure the lid of the pressure cooker and set it to high pressure for 5 minutes. Once the time is up, do a quick release of the pressure.
Finally, stir in the cooked shrimp, fresh parsley, and season with salt and pepper. Give it a good mix, ensuring the pasta is well coated with the sauce and the shrimp are evenly distributed.
And there you have it, Barefoot Contessa's Shrimp Scampi Linguine prepared in a pressure cooker. It's quick, it's easy, and most importantly, it's incredibly delicious. Bon appétit!
Tips for making Barefoot Contessa Shrimp Scampi Linguine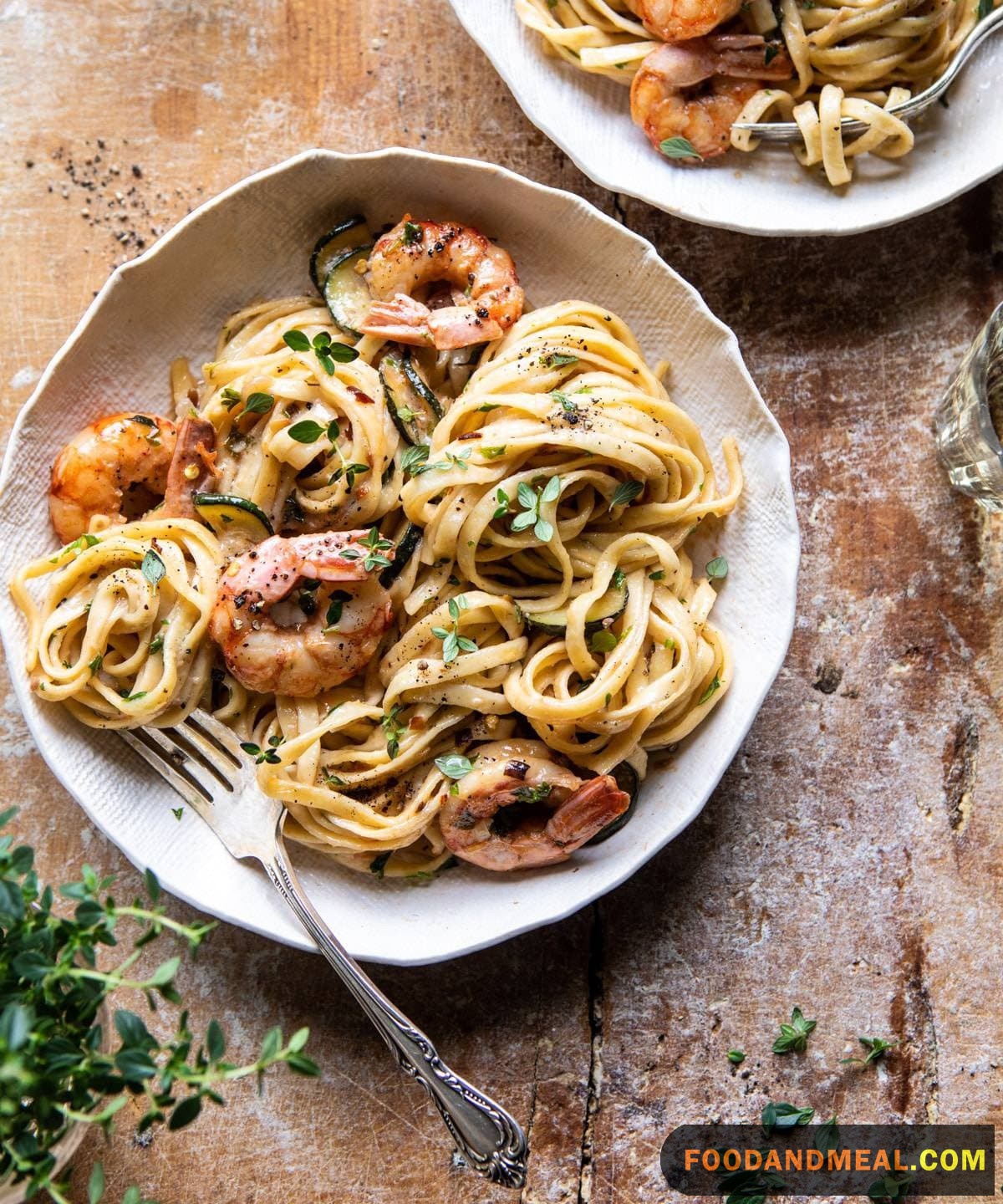 Cooking Tips
Perfectly Cooked Shrimp: The key to nailing this dish is to avoid overcooking the shrimp. Be vigilant, and as soon as they turn pink and opaque, they're done. Overcooked shrimp can become rubbery, and we don't want that, do we?
Fresh Ingredients: Always use fresh, high-quality ingredients. The flavors in this dish are simple but incredibly delicious, so fresh garlic, ripe lemons, and good-quality linguine make all the difference.
Sauté the Garlic Right: Make sure you sauté the minced garlic just until it's fragrant and lightly golden. Be careful not to brown it too much, as that can make it bitter.
Wine Matters: Don't skimp on the white wine. It's a crucial flavor component in the scampi sauce. Choose a wine you'd enjoy drinking, and it will elevate the dish.
Don't Forget the Red Pepper Flakes: A pinch of red pepper flakes adds a delightful kick to the dish. Adjust the amount to your spice preference, but don't skip it altogether; it balances the flavors beautifully.
Serving Suggestions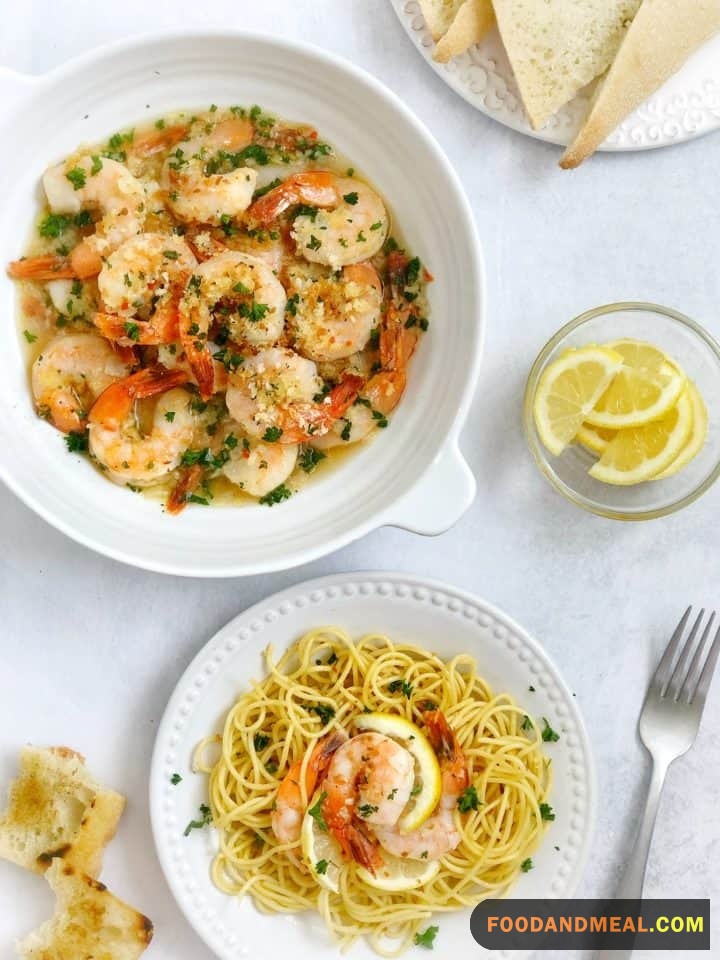 Freshly Baked Ham and Cheese Pull Apart Bread: Slice a baguette, brush it with a mixture of butter, garlic, and parsley, then bake until golden. It's the perfect accompaniment for soaking up that delectable scampi sauce.
Lemon Wedges: Set out a plate of lemon wedges. A squeeze of fresh lemon juice adds a zesty brightness to the dish.
Freshly Chopped Parsley: Sprinkle some fresh parsley over the top for a burst of color and flavor. It's the little details that make a big difference.
Chardonnay or Sauvignon Blanc: Pair this dish with a crisp Chardonnay or Sauvignon Blanc for a well-rounded dining experience. The wine's acidity complements the richness of the scampi.
Serve It Family-Style: Put the pasta and shrimp in a big serving dish, garnish with fresh herbs, and let everyone help themselves. It's a relaxed and inviting way to enjoy this meal.
FAQs about Barefoot Contessa's Shrimp Scampi Linguine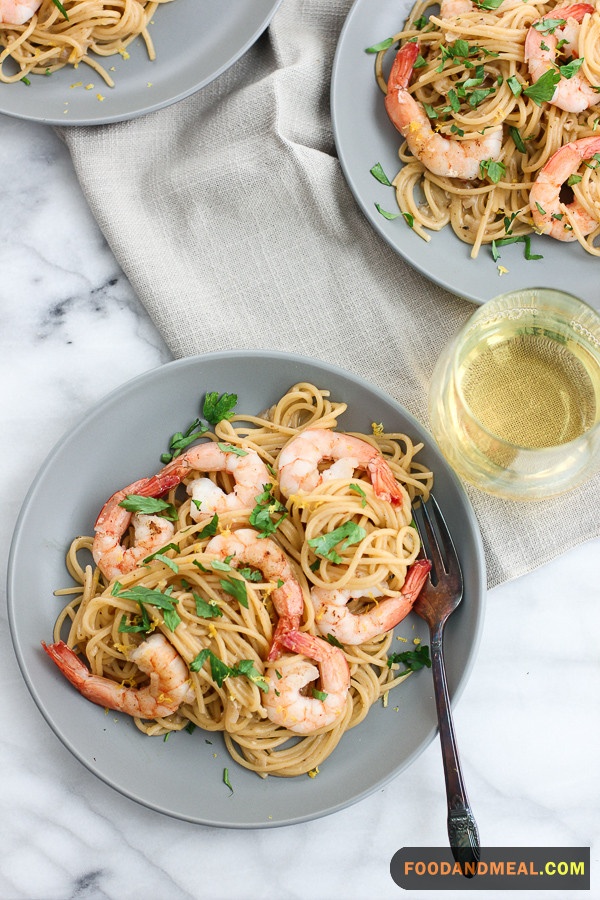 Can I make this dish with frozen shrimp? A: While fresh shrimp is best, you can use frozen shrimp in a pinch. Just make sure to thaw and pat them dry before cooking.
How do I store leftovers? A: Store any leftover Shrimp Scampi Linguine in an airtight container in the refrigerator for up to 2 days. Reheat gently in a pan with a splash of white wine or chicken broth.
Can I use a different type of pasta? A: Of course! Linguine is traditional, but you can use spaghetti, fettuccine, or even angel hair pasta. The sauce pairs well with most pasta shapes.
What can I substitute for white wine in the recipe? A: If you prefer not to use wine, you can substitute with chicken or vegetable broth. It won't be quite the same, but it'll still be delicious.
How spicy is this dish with red pepper flakes? A: The heat from the red pepper flakes is subtle. You can adjust the amount to your preference. Start with a pinch for a mild kick and add more if you like it spicier.
In the realm of home-cooked gourmet, Barefoot Contessa's Shrimp Scampi Linguine is a shining star. A delightful symphony of fresh shrimp, tangy lemon, and savory garlic, this dish paints a vibrant palette of flavors that are as pleasing to the palate as they are to the eye. The allure of this recipe lies in its simplicity, yet the resulting dish is a luxurious treat that encapsulates the essence of Italian cuisine.