Easy sheet pan shrimp fajitas are so simple! Work has been crazy lately which usually means eating out for lunch and maybe cheese and crackers for supper. It was time for a home cooked meal and I was beat! This recipe saved the day for sure. The shrimp get tossed with the seasoning and olive oil, then toss the veggies with the shrimp. Lay everything out on the sheet pan and cook together for 10 minutes. The shrimp will be done quickly so be careful they don't get over cooked. After 10 minutes remove the shrimp from the pan and broil the rest of the veggies for 2-3 minutes to give them that black smokey goodness that really gives it the fajita flavor. Be careful not to burn them. The broiler is my nemesis! I like to multi task and idle time drives me crazy, but this is one thing you want to be sure and take the time to sit and watch. They can go from cooked to charcoal in seconds!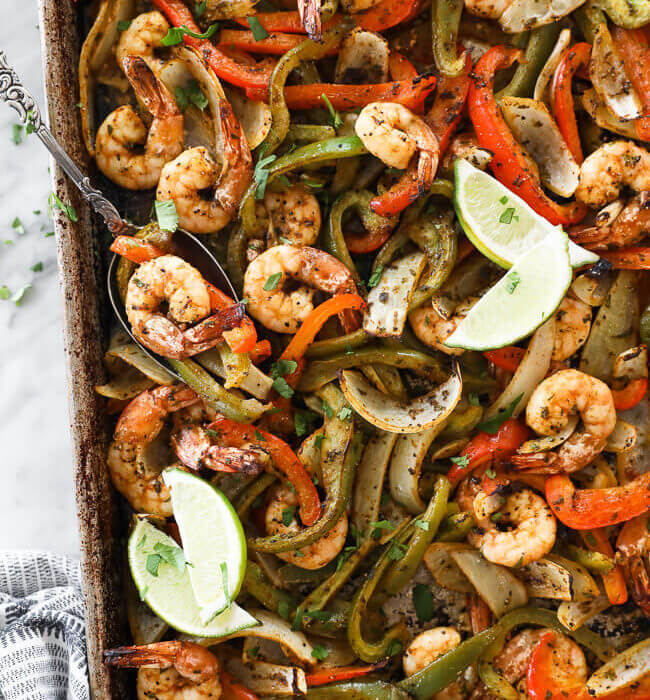 Easy Sheet Pan Shrimp Fajitas Recipe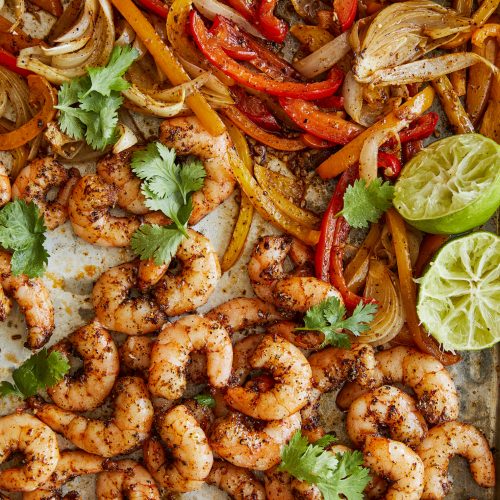 EASY SHEET PAN SHRIMP FAJITAS
Equipment
1 oven

1 large bowl

1 baking sheet

1 serving plate
Ingredients
1

oz

fajita seasoning

1

tbsp

olive oil

1.5

lbs

raw shrimp

1

red bell pepper sliced into strips

1

yellow bell pepper sliced into strips

1

red onion sliced into strips

1

jalapeno pepper sliced

garnishes: flour tortilla

guacamole, cilantro, sour cream
Instructions
Preheat oven to 450 degrees

Mix fajita seasoning and olive oil together in a large bowl

Add shrimp and toss to coat

Lay out seasoned shrimp in a single layer on a baking sheet

Add red and yellow peppers, onion, and jalapeno, mix with shrimp and spread out evenly

Roast in a pre heated oven until shrimp are opaque, 8-10 min

Transfer shrimp to a serving plate

Broil pepper mixture until lightly blackened, 2-3 min

Transfer to the serving plate with the shrimp

Serve with tortillas, cilantro, guacamole, sour cream, whatever you like
The Allure of the Easy Sheet Pan Shrimp Fajitas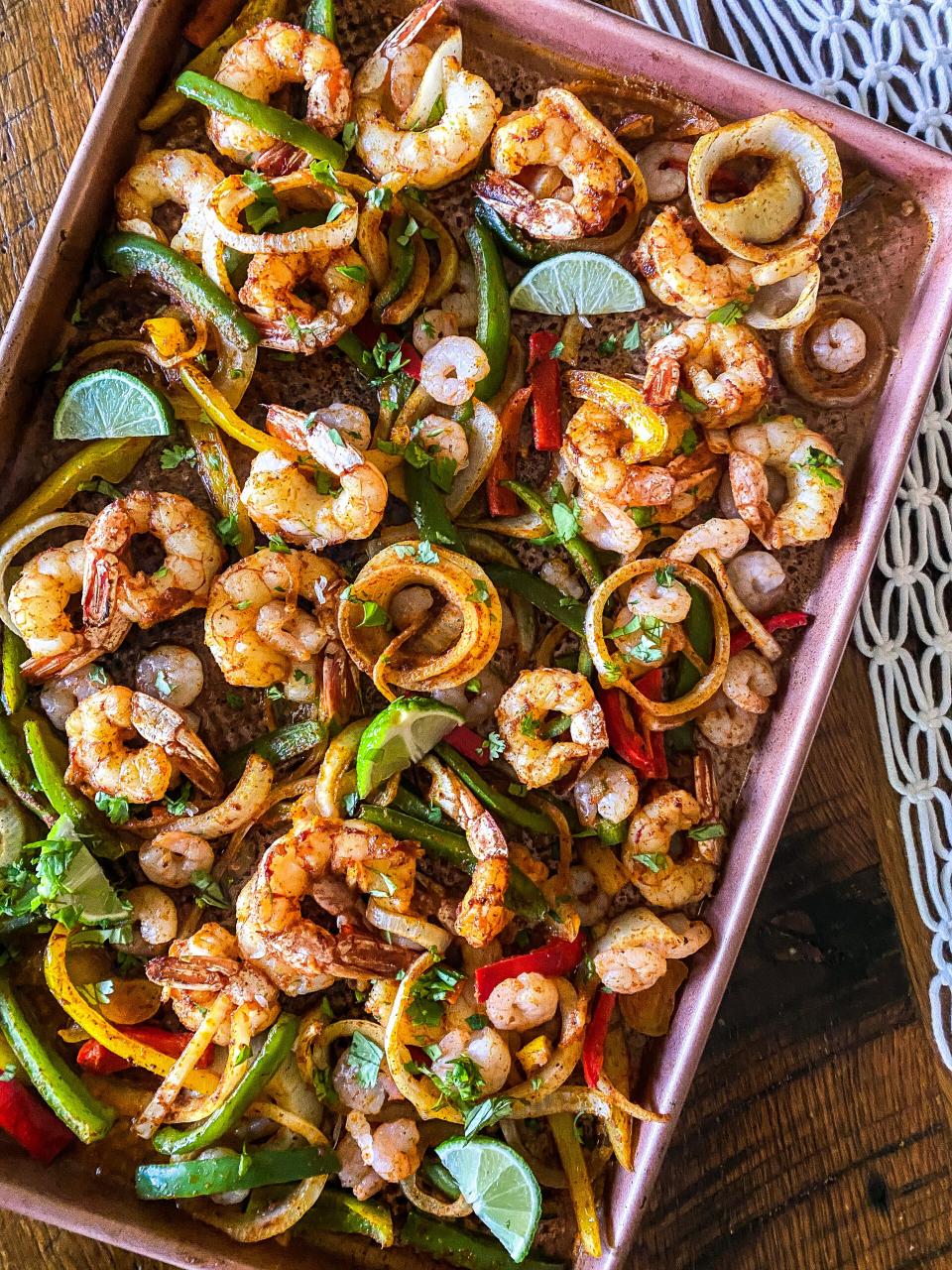 Imagine this: plump shrimp, crisp bell peppers, and sweet onions, all tossed in a blend of zesty spices and roasted to perfection. That's what you get with these Easy Sheet Pan Shrimp Fajitas.
But let's delve deeper into why this dish is a star in my culinary lineup.
Effortless Elegance
The term 'easy' isn't just there for show. This dish truly is a breeze to prepare. Simply toss your ingredients onto the sheet pan, pop it in the oven, and wait for the magic to happen. It's the perfect solution for those hectic weeknights when you're craving something flavorful but short on time.
Serving Suggestions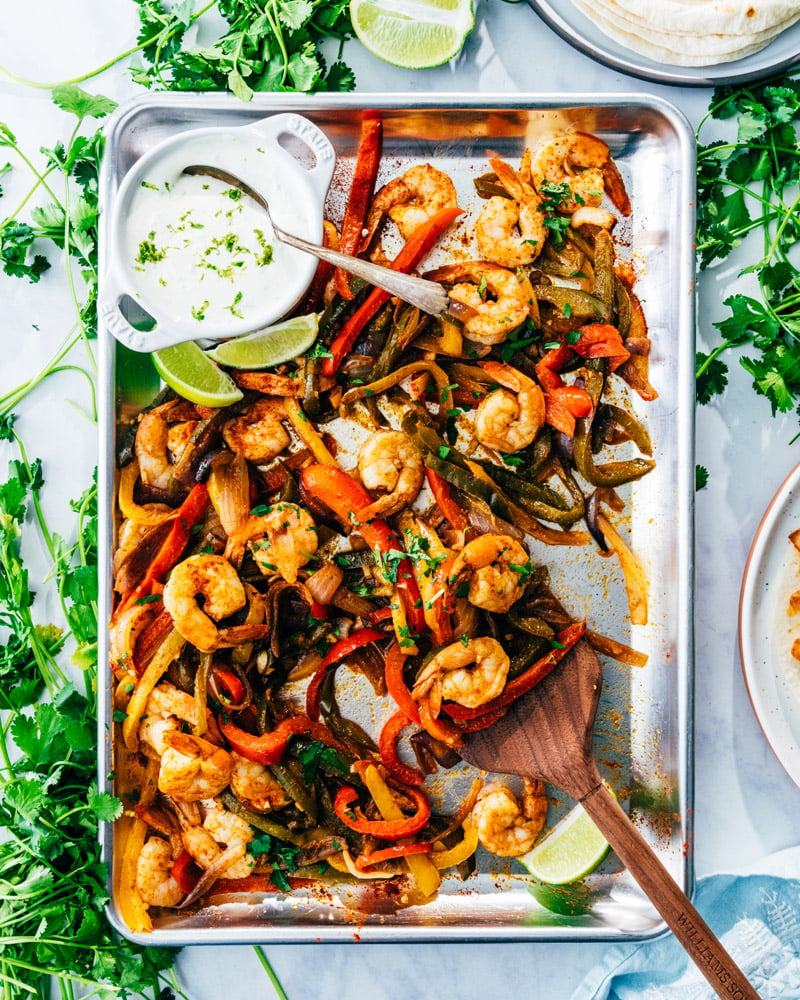 Now, let's discuss how to serve these delightful fajitas. While the Easy Sheet Pan Shrimp Fajitas are a complete meal on their own, here are a few suggestions to take your feast to the next level:
Guacamole: Creamy, rich guacamole adds a touch of luxury to these fajitas. Plus, it's a great way to incorporate some healthy fats into your meal.
Pico de Gallo: This fresh tomato salsa brings a burst of freshness that complements the roasted flavors of the fajitas beautifully.
FAQs about Easy Sheet Pan Shrimp Fajitas
I'd like to address some common questions you might have about this dish:
Can I use a different protein?
Absolutely! While shrimp is my go-to for these fajitas, feel free to substitute with chicken, beef, or even tofu for a vegetarian version.
What if I don't have a sheet pan?
No worries at all. You can also prepare this recipe in a large skillet on the stove. Just be sure to adjust the cooking time as needed.
Cooking Tips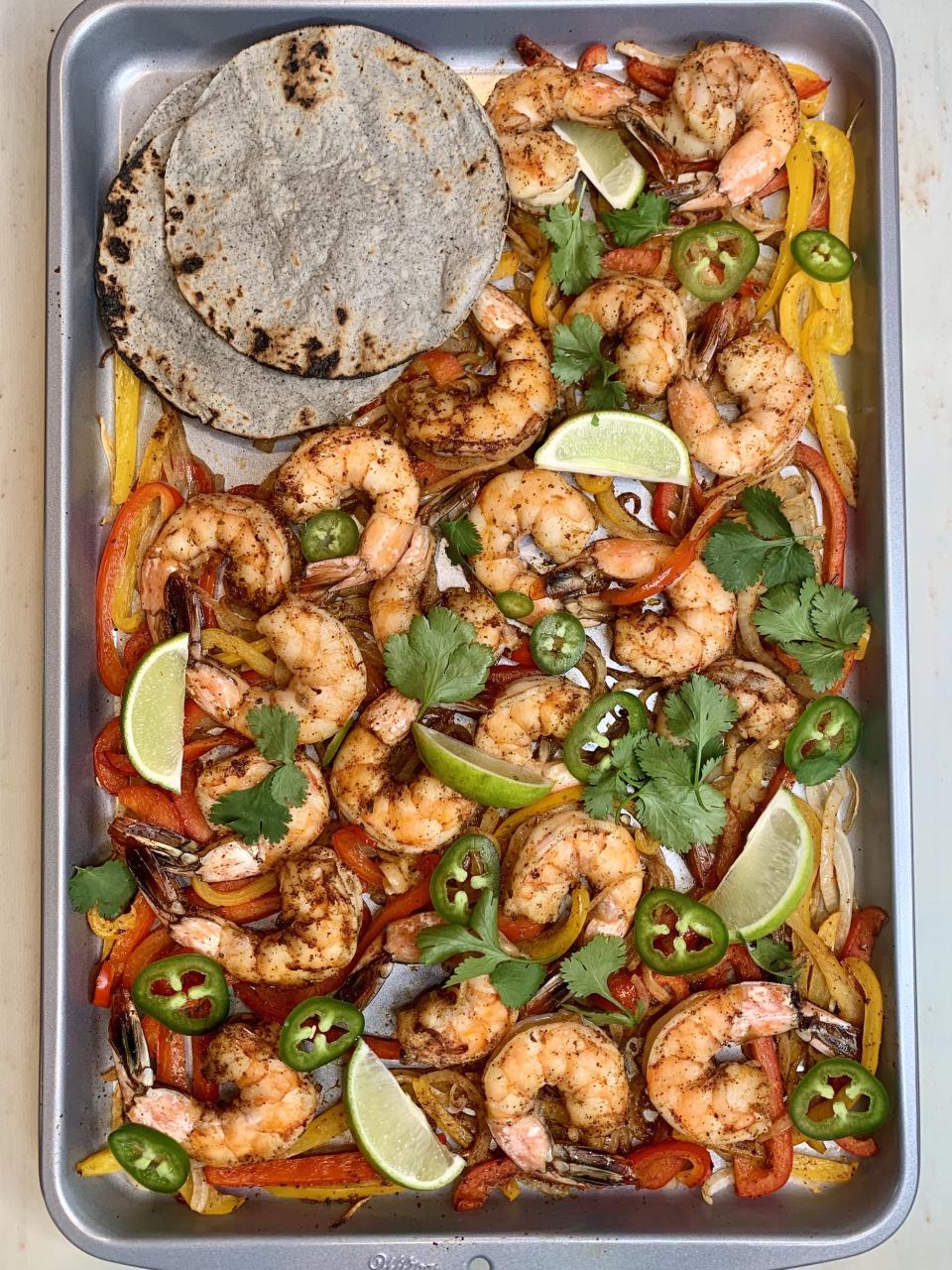 Lastly, here are a few tips to help you master your Easy Sheet Pan Shrimp Fajitas:
Don't overcrowd the pan: Make sure your ingredients are spread out in a single layer on the sheet pan. Overcrowding can lead to steaming instead of roasting, which might affect the texture and flavor.
Preheat your sheet pan: Placing your ingredients onto a hot pan can help achieve a nice sear and prevent the shrimp from sticking to the pan.
Keep an eye on the shrimp: Shrimp cooks quickly and can become rubbery if overcooked. Be sure to remove the pan from the oven as soon as the shrimp are pink and opaque.
And there you have it – everything you need to know about the Easy Sheet Pan Shrimp Fajitas. Now, it's time to bring the fiesta to your kitchen. Happy cooking!